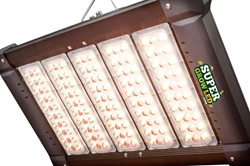 Full spectrum solid state LED grow lights break the 1 gram per Watt barrier.
Santa Rosa, CA (PRWEB) June 12, 2014
Summary: The latest generation of LED grow lights is light years ahead of its predecessors, and is extremely cost-effective.
Super Grow LED grow lights now outperform industry-standard High Intensity Discharge (HID) lighting, such as High Pressure Sodium (HPS) and Metal Halide (MH) lamps. In terms of harvested dry herbs, Super Grow LED full-spectrum grow lights regularly achieve more than 1 gram per Watt (gm/W), whereas HPS and MH lamps commonly produce only 0.5gm/W. LED-experienced growers achieve even higher yields, using tried-and-tested growing techniques that are specific to LED grow lights.
The application of true full spectrum broadband LEDs, along with the addition of lab-proven supplemental frequencies, assure growers that they will receive greater, more consistent yields. This broadband full spectrum LED technology more closely mimics what the sun delivers, and what plants actually use, than any other LED grow light on the market. A precise cocktail of various supplemental red LEDs provides for shorter internode spacing, and leads to higher harvest weights, as well as better control of photoperiod for indoor-grown plants.
Growers can expect LED grow lights to pay for themselves quickly, by reducing energy usage, HVAC requirements and eliminating HPS lamp replacement costs. With a lifespan of more than 10 years (50,000+ hours), LEDs continue to save money on these variables long after they have paid themselves off. When growing high-value crops, the Return on Investment period is even shorter – sometimes within 3-4 months.
LED lighting is safer than HPS lighting, in terms of crop security, personal safety and fire hazard. It is well known that HPS lighting equipment must be kept at great distances from plants to keep from burning them. Operating at 600-750°F, burns from contact with HPS fixtures are common.
LEDs have come a long way since the early days of 2-color (RED/BLUE) grow lights. The shift to full spectrum LED grow lighting is producing greater yields and greater crop consistency, at purchase prices and operating costs that are finally affordable to most indoor gardeners.