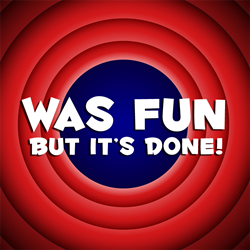 The video for Was Fun (But It's Done) is a wild ride.
(PRWEB) May 15, 2014
It's a wild ride on the Groove Bus – in the newly released music video for Nicholas Nix' latest track: Was Fun (But It's Done).
Totally animated (2D and 3D) and totally ridiculous, the 5-minute musical cartoon takes an astrocat, playing card characters and a pair of grumpy oldsters on a rocket ride of highways and skyways, until landing on a disco planet for the final dance-off.
Wanna see it? You can view it here:
On the Nix website: http://www.nicholasnix.com
On YouTube: http://youtu.be/e36HG6inLfc
Nicholas Nix is an electronica/groove composer living and producing in the funktropolis of Cincinnati, OH.
The video for Was Fun (But It's Done) was created by Nicholas Nix using the following programs: CrazyTallk Animator 1, Apple Motion 5, Poser 7, DazStudio 4.6 and of course Photoshop. Additional vocal support from Aiva - via her Vocal Download Pack (https://www.reverbnation.com/aivamusic).