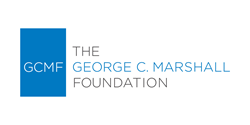 (PRWEB) May 16, 2014
The George C. Marshall Foundation will celebrate the 50th anniversary of the dedication of the Marshall Library on June 5. Activities include:
5:00 PM Address by Hon. John O. Marsh, former Secretary of the Army
5:45—7:00 Reception in the Marshall Museum and Marshall Library,
A special exhibit commemorating the first 50 years will be on display in the lower gallery of the Marshall Museum.
John Marsh returns to Lexington. He was a new congressman from Winchester when he accompanied President Lyndon B. Johnson in 1964 to dedicate the George C. Marshall Library. Marsh served in Congress for eight years before accepting appointments in the White House. President Reagan then appointed him secretary of the army, a position he held for eight years, making him before and since the longest-serving secretary.
The actual day in 1964 was May 23, and it marks one of the most significant events in the history of the city of Lexington. It was the second time a sitting president had visited Lexington. A large crowd that included Marshall family members, Mrs. Marshall among them, gathered on the VMI Parade Ground to hear President Johnson, former President Dwight D. Eisenhower, Governor Albertis Harrison of Virginia and others talk about the importance of honoring General Marshall and sustaining his legacy. The presiding official was Omar N. Bradley, General of the Army and president of the George C. Marshall Foundation.
The original tagline for the Marshall Research Library was "That Tomorrow May Better Know Our Times." The first 50 years of the Foundation have focused on that objective. The official biography of Marshall, written by Dr. Forrest Pogue and published in four volumes, was completed in 1987. The annotated Papers of George Catlett Marshall will be completed in seven volumes in early 2015.
Today more than 50 years later the research library remains a center of activity for scholars, students and historians from all over the globe, many of whom access a growing digital collection of information about Marshall and his era online at the Foundation's Web site.
The Marshall Foundation celebrates the life and career of George C. Marshall, who was chief of staff of the Army during World War II, secretary of state following WWII (Marshall Plan) and Secretary of Defense during the Korean War. President Harry Truman called him "the great one of the age." The Foundation operates an archive and a research library, conducts seminars and conferences, and participates in special events and outreach. The George C. Marshall Museum is open to the public five days a week. See http://www.marshallfoundation.org for more.