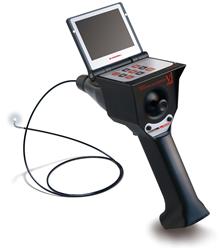 The VJ is lightweight and portable, and it delivers great image quality. Best of all, I have had this scope for two years and it still articulates like the day we bought it. - D. Perkins, Senior Director of Maintenance
Traverse City, MI (PRWEB) May 16, 2014
The VJ-Advance (VJ-ADV) video borescope is making a trip to Canada. More specifically, the VJ-ADV family of borescopes is headed to the American Helicopter Society International 70th Annual Forum and Technology Display (AHS Forum 70) in Montreal, Quebec. The conference, which promises to be "the biggest and best vertical flight technology conference in the world," is taking place at the impressive Palais des congres de Montreal on May 20-22, 2014.
AHS Forum 70 offers a variety of ways for attendees to expand their rotorcraft knowledge. Technical sessions on topics such as Aerodynamics and Operations, a keynote address from Brigadier General Christian Drouin, Deputy Commander Force Generation of the Royal Canadian Air Force, a Vertical Flight Foundation Cocktail Reception and Awards Banquet, and an MAV student competition are only a few of the events offered at the conference.
Edward Thomas, RF System Lab borescope expert, has his passport ready and is looking forward to providing demos of the VJ-ADV at AHS Forum 70 for helicopter professionals. He is excited to show attendees how the VJ-ADV's portable design is ideal for rotor-wing inspections.
Since helicopter turbine engines are located near the rotor blades, in order to perform any sort of maintenance on them, technicians usually have to climb up scaffolding or a ladder; this is where the features of the VJ-ADV are extremely beneficial. With its compact, portable, pistol-grip design, the AA battery-powered VJ-ADV is the ideal borescope for helicopter turbine or airframe inspections. Some satisfied rotorcraft customers include Boeing, Eurocopter of Canada and Turbomeca Engines – all leaders in helicopter engine maintenance.
You can demo the scope for yourself and meet Edward Thomas at the RF System Lab booth #327 starting on Tuesday, May 20th at 11:00am. If you cannot make the conference, contact RF System Lab today at (855) 787-6966 to arrange to receive your no-cost, no-obligation demonstration unit.
RF System Lab, developer of the VJ-Advance video borescope, is a worldwide leader in remote visual inspection and video borescope technology. The VJ-Advance is a perfect fit for a wide range of aviation-related applications and inspections. RF System Lab is so confident in the VJ-Advance that they offer a no-cost, no-obligation demo program. Sign up for your free demo unit today.