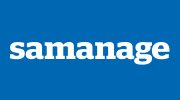 What impresses me the most about Samanage is their agility and speed...
Cary, NC (PRWEB) May 14, 2014
Samanage, provider of the only multi-tenant, unified service desk and asset management cloud solution on the market, today announced a number of new product enhancements including automatic capture of Apple warranty details, mobile device asset management, groups, integration of Citrix GoToAssist, and more.
As the only true cloud-based multi-tenant company in the service management market, Samanage is uniquely positioned to leverage agile product management and engineering to rapidly enhance the solution on an ongoing basis, based on continuous customer feedback. Samanage has also invested in building a world-class customer support organization, which helps them stay very close to their customer base.
"What impresses me the most about Samanage is their agility and speed. They are actually listening to what their customers are saying, and quickly acting on ideas that make sense for the greater good," expressed Eric Feldman, Director of Information Technology, The Riverside Company.
The ability to make product updates quickly and easily enhances the experience for all users, and creates a significant competitive advantage for Samanage and the IT organizations it serves.
"We've built this entire company around the premise that IT people deserve a better product. That passion, combined with an agile business model and a laser focus on our customers, allows us to quickly capitalize on the power of our broad install base," explained Doron Gordon, Samanage CEO. "Since all of our clients run on a single software instance, we can deliver continuous innovation and make upgrades available to all users quickly and easily."
One of the most popular product updates is the automatic capture of Apple Warranty Details, a first for the service management industry. Now, warranty details for Apple devices including laptops, desktops and servers are automatically downloaded into Samanage, in addition to details already captured for Lenovo, HP, and Dell. This automatic download helps IT organizations manage ongoing service and maintenance for all of their existing assets, better understand the lifecycle of those assets and to more accurately budget for future purchases of replacement assets.
Another product update is the addition of mobile device asset management. Now, customers have mobile assets built into their IT Service Management capabilities and are able to associate mobile assets with incidents, problems, change, and releases.
Using Samanage, IT organizations can keep track of every asset in their company: from desktops, laptops and servers to smartphones and tablets - knowing exactly where each asset is located and who is currently using it.
Other recent product enhancements focus on improving the overall customer service experience, and include:
*Support for creation and use of User Groups enables customers to better align the organization structure and workflow. As always, the UI for creation and management of groups is clear, easy and captivating.
*Integration of Citrix GoToAssist provides the ability to launch a remote support session directly to the user's machine from within Samanage.
*Support for 15 new languages.
*New time zones and additional business hours per site capability provides better support for SLA monitoring in global organizations.
*Service monitor, a new user interface widget, provides a great visual indication of incident KPIs in both real-time and with the effect of business hours.
About Samanage
Samanage provides the only true multi-tenant, unified service desk and asset management cloud solution on the market today. Our revolutionary user interface delivers an unmatched user experience and enables code-free customization, allowing customers to fully deploy a robust IT Service Management (ITSM) solution in only 14 days. We are uniquely able to deliver both simplicity and strength to customers in the form of instant value, user-friendly functionality, and feature-rich and "future-proof" capabilities. Our goal is to help customers deliver a superior service experience to their end users, and real value throughout their organization by improving asset control, empowering end users, and maximizing resources. Learn more at: http://www.samanage.com.