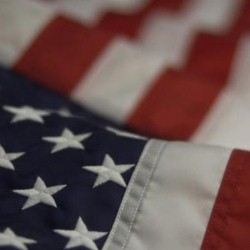 'Since Memorial Day is coming up, it's the perfect time to integrate patriotic imagery into label designs,' said AnneMarie Campbell, Business Development Manager at Lightning Labels.
Denver, CO (PRWEB) May 20, 2014
Lightning Labels, custom label and sticker printing leader, can help companies prepare for Memorial Day and other holidays with patriotic labels. While Memorial Day is the perfect time to demonstrate pride in the U.S., there are many other reasons patriotic labels could be a good marketing strategy. While labels with iconic American imagery can demonstrate pride, they can also communicate when an item is a U.S. favorite or made in America, which can also be important to consumers.
"Labels with patriotic imagery can be beneficial for a number of reasons," said AnneMarie Campbell, Business Development Manager at Lightning Labels. "The color scheme and design of the American flag are iconic and eye-catching, but can also send a message to shoppers that a product is American-made. Since Memorial Day is coming up, it's the perfect time to integrate patriotic imagery into label designs."
Whether brands choose stars and stripes, eagles or landscapes that are distinctly American, patriotic labeling schemes can draw attention to products.
Many Shoppers Look Out for "Made in the USA" Labels
Brands can use "made in the USA" labels to grow sales. According to Consumer Reports, 78 percent of Americans would rather buy a product made domestically. The same survey found that many consumers would pay extra for a product created in the U.S. Some products are required to state whether they are from the U.S., but most others are not. Companies can get an edge on the competition by demonstrating if their items are made in this country. However, it is important to be clear in this distinction. Labeling about country of origin can be confusing, so brands should attempt to make the labels as transparent as possible. Just an American flag and the words "made in USA" should be enough. In this case, it's not useful to include eagles or images of Mount Rushmore, as these may just add to the confusion. It can help to get products listed in databases that promote U.S. products and companies, like MadeinUSA.org.
Customized Product Labels Help Consumers Observe American Holidays
In addition to Memorial Day, there are many patriotic holidays that brands can make customized product labels to celebrate, especially in the summer months. Later in summer come Flag Day and Independence Day, which are both fantastic opportunities to display the American red, white and blue color scheme on products. U.S. holidays tend to involve grilling out, so for companies that make food products that could be consumed outdoors, a label with an American flag may ensure these products get selected for the holiday barbecue. Brands can make wine and beer with patriotic labels, or even water bottle labels. Salsas, jams and other condiments and spreads are often popular at outdoor grilling events. Homemade ketchups, mustards and relishes can be made instantly patriotic with the addition of a label or sticker. No matter what brands expect for the summer, a U.S. label could inspire shoppers to pick up a product.
About Lightning Labels:
Lightning Labels uses state-of-the-art printing technology to provide affordable, full-color custom labels and custom stickers of all shapes and sizes, and now offers a full line of custom packaging products. From small orders for individuals, to the bulk needs of big businesses, Lightning Labels is equipped to handle and fulfill sticker, label and product packaging projects of all types. Best of all, like the name implies, Lightning Labels provides a quick turnaround to every customers' labeling and product packaging needs. Uses for Lightning Labels' custom product labels and custom stickers include food packaging and organic food labels, wine and beverage labels, bath and body labels, and nutraceutical products, such as vitamins, essentials oils, and herbal remedies, as well as event stickers, adhesive window stickers and more. Lightning Labels strongly supports the development of environmentally friendly printing materials and carries EarthFirst PLA, a new kind of green label material made from corn instead of petroleum. While operating as a high-tech printer, Lighting Labels prides itself on its personalized customer service. Lightning Labels provides one stop shopping for all of your label and product packaging needs. For more information and to place orders online, visit LightningLabels.com. For the latest in packaging news and labeling promotional offers, find Lightning Labels on Twitter (@LightningLabels), Facebook, Pinterest, Google + and LinkedIn.