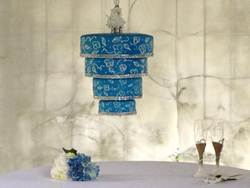 (PRWEB) May 28, 2014
According to a recent United States' census, Hispanics constitute 17% of the nation's total population, and that percentage is expected to reach 30% by the year 2050.
"We have noticed a steady increase in sales from Spanish speaking countries, particularly Mexico and Spain, so we decided it was time to offer our website in Spanish as well as English," says Jana Ronan, Founder and CEO of Cake Stackers. After conducting market testing in Spanish speaking countries, the Cakestackers management team perceived a strong demand for cake stands and accessories.
"We've always promoted international sales of our products but with the website being only in English we felt we were losing out on sales by not providing multilingual support," adds Jana.
The number of non-English websites is rapidly expanding. The use of English online increased by around 281% from 2001 to 2011; however, this is far less than Spanish which increased by 743%.
"Spanish is among the world's most-used languages," says expert Gerald Erichsen, About.com expert. "With 329 million native speakers, Spanish ranks as the world's No. 2 language in terms of how many people speak it as their first language."
With such a growing market and potential for Hispanic customers, businesses are adapting their marketing to the needs and preferences of the Spanish-speaking population.
"Hispanics are a very family-oriented society and they celebrate as a family," says Ronan of Cake Stackers. "Our cake stacking systems are popular because local celebrations often include a lot of cupcakes which are favorites of the children. Our multilevel cake stackers are also ideal for serving appetizers or tapas."
Marketing data indicate Latina bride's prefer big, fun, exotic cakes that are colorful and make a statement. "They like cakes that reflect the bride's personality rather than just a standard stacked wedding cake" adds Ronan. "Translating our website into Spanish is our way to show Latinos that we want to help them make their celebrations about fun and family--a perfect reflection of their culture."