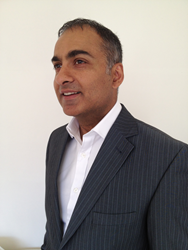 "Just Your Average Muslim is a must-read for anyone interested in, or even concerned by, Islam and Muslims in Britain" - Roger Phillips, BBC Presenter
(PRWEB UK) 20 May 2014
Islam and Muslims are rarely out of the headlines, whether it be for events taking place abroad or issues of integration closer to home. But who actually speaks for your average Muslim? Liverpool barrister Zia Chaudhry does in his recently published book which is taking literary and religious circles by storm.
Charting Chaudhry's personal journey, Just Your Average Muslim, discusses all influences from historic Muslim scientific achievements, to South Park and the Dukes of Hazzard.
This must-read book bravely explores non-Muslim issues and questions of urgent Muslim reform in a humorous and refreshing way - dispelling myths and tired stereotypes along the way. Not afraid to be self-critical and controversial, JYAM is the voice of the "regular" Muslim who has, until now, been absent from the discussion, and it arrives at a time when halal meat, extremism and niqabs are once again dominating the news.
Happily, it concludes that there is every reason to be quietly optimistic and look forward to a shared future together.
Just Your Average Muslim, published by Grosvenor House Publishing, is available from all major bookstores including Amazon and Waterstones, RRP £9.99. Further information about the book and its author can be found at http://www.justyouraveragemuslim.com
Gladfest takes place from 5-7 September, 2014, at Gladstone's Library, Hawarden, Flintshire.