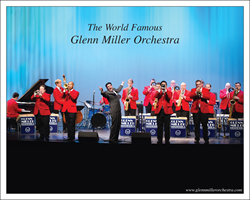 This style of music takes me back to my younger years
Newton, NC (PRWEB) May 16, 2014
The legendary Glenn Miller was one of the most successful of all dance bandleaders back in the Swing Era of the 1930's and 40's. Following Miller's death, interest and popular demand led the Miller Estate to authorize the formation in 1954 of the present Glenn Miller Orchestra, which has performed for decades. Still today, Glenn Miller Orchestra continues to be the most sought after big band in the world. They take the stage on Tuesday, May 27 at 6pm on the campus of Piedmont Crossing in Thomasville, NC, and again on Thursday, May 29 at 6:15pm on the campus of Abernethy Laurels in Newton, NC.
Currently, the 18 member ensemble continues to play many of the original Miller big band arrangements as well as some more modern selections arranged and performed in the Miller style and sound. The orchestra has performed in all 50 United States, as well as throughout Europe, Australia, Iceland, New Zealand, Guam, the Philippines, South and Central America.
Abernethy Laurels resident Jeanne Swartz is among the many residents at these two retirement communities that are thrilled about having Glenn Miller Orchestra perform. "This style of music takes me back to my younger years," laughed Swartz. "I am elated that I get to see Glenn Miller Orchestra in concert. We are all looking forward to reminiscing and dancing the evening away," said Swartz, whose late husband was a trumpet player in the Al Ceechi 15-piece orchestra that is known throughout Western New York for their Glenn Miller style of music.
Both performances are free of charge. Seating is limited and reservations are required for both performances. For information regarding either performance, contact Shaylyn Ladd at 828-465-8028.
Abernethy Laurels and Piedmont Crossing, both not-for-profit retirement communities located on beautiful acreage in North Carolina, offer cottages, townhomes, and apartments as well as a variety of services. For more information about either location, contact Public Relations Director Shaylyn Ladd at 828.465-8028.