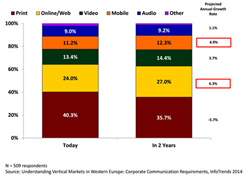 Weymouth, MA (PRWEB) May 14, 2014
Digital media is reshaping the communication landscape, but print is still a solid and valuable channel. According to InfoTrends' study Understanding Vertical Markets in Western Europe: Corporate Communication Requirements, print will remain a major component of communications spending but it is declining, as organizations are shifting dollars to mobile and online/web channels. Print's future role, the study finds, hinges on its ability integrate with the mobile and digital channels.
"Print's role is changing, but it is not disappearing," says Steve Adoniou, Group Director of InfoTrends' Consulting Service. "Competition from digital media is reshaping the use of print and the production methods to deliver it. Defending prints' role will require investment in workflow automation enhancements that improve productivity, delivery speed, and cost."
The study surveyed 509 large organizations (those with 100 plus employees) in Germany, France, and the United Kingdom, across 5 vertical markets (financial services, government, healthcare, retail, and manufacturing) to:

Quantify communication spending by key application area and media type
Identify sourcing preferences by application and media type
Assess process for selecting providers
Identify strategies and recommendations for business growth by market and application
"The research study confirms that pursuing a multi-channel communications strategy is important and growing in the European corporate market," says Lisa Cross, Associate Director of InfoTrends' Business Development Strategies Service. "Its importance is driven by organizations' need to serve and communicate with customers that have different delivery requirements and preferences."
Print makes up a significant portion of European communication spending. Corporate firms spend, on average, €2.9 million annually on print. During the past year, print accounted for 40% of respondents' communication spending. Respondents expect print's share of communication spending to decline -5.7% over the next two years as dollars shift to online, mobile, video, and audio channels. Despite this shift, print will remain the top spending category even after 2 years.
InfoTrends' vertical market study on communications trends reveals that overall, there is a migration in corporate firms to using print and digital media together—not to exclusively using one form in lieu of the other. Survey respondents reported that 42% of printed marketing materials were linked to digital media channels in past 12 months, while 40% plan to combine print and digital media in the future. This finding indicates that firms understand the value in of including print in communication efforts.
InfoTrends' Understanding Vertical Markets in Western Europe: Coroprate Communication Requirements is available immediately for purchase. For more information, please contact Scott Phinney at +1 781 616 2123 or email scott.phinney(at)infotrends(dot)com.