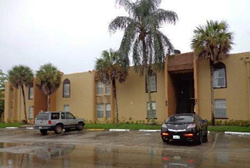 Chicago, IL (PRWEB) May 15, 2014
American Homeowner Preservation ("AHP") is using real estate crowdfunding to purchase pools of distressed mortgages in order to help homeowners avoid foreclosure while producing 9-12% returns for accredited investors. In no other state can the devastating effects of the foreclosure crisis be seen as clearly as Florida, which Realtytrac.com reported in March as having one in every 407 homes in foreclosure; the highest rate in the nation. Tony Coward is all too familiar with the foreclosure crisis: he has lost a townhome in Tallahassee to foreclosure already and is fighting to keep his current home. When he purchased a condo for his daughter in 2005, he had no idea that it would nearly be lost to foreclosure two separate times.
"Hurricanes Katrina and Wilma--that's when our troubles started. We had four deaths in our family related to that hurricane, two of them left kids behind, young kids," Coward said. "We were trying to help family relocate and pull themselves together, so money was going all over the place."
Before the hurricanes, Coward purchased the condo for his daughter when she became a single mother and needed support raising her handicapped daughter. When she married and her husband was relocated for work, Coward found tenants to occupy the condo. This turned out to be disastrous. Their most recent tenant stopped paying rent, tied Coward up in eviction court for more than a year and caused over $6,000 in damages.
Between the hurricanes, problematic tenants and the housing crash, Cowards' financial difficulties began to mount. When his son began college in Tallahassee in the early 2000s, Coward elected to invest in a townhome rather than pay rent. Yet his financial hardships made the payments unmanageable, and Coward lost the townhome to foreclosure. When the condo for his daughter entered foreclosure, Coward used money from his 401K and paid $14,000 to save it because, despite the market crash, it still had decent value. After paying to get the condo out of foreclosure, Coward tried to work with his lender to come up with a modification, but found no help.
When he was contacted by AHP in early 2014, Coward was advised by his lawyers that the offers were good and that it was a legitimate solution to save the condo. AHP was able to reduce the Coward's loan from $118,100.20 to $31,350 and cut the monthly payments from $553.36 to $330.00.
Coward is fighting to keep is current home from being foreclosed on, but is struggling to find a solution working with his lender. Given the opportunity, Coward feels that AHP could play a significant role in Florida's foreclosure problem. "You could make a major impact if banks would allow you to work with people," Coward said. "I would love to switch my current residence to this situation, instead of trying to fight with my current lender."
American Homeowner Preservation was established in 2008 as a nonprofit organization before transitioning to for profit. Today, AHP purchases pools of distressed mortgages from banks at big discounts, and then offers sustainable solutions to families to avoid foreclosure and stay in their homes, while concurrently generating attractive financial returns for both the homeowners and investors. For additional information on American Homeowner Preservation, please visit https://ahpinvest.com, call (800) 555-1055 or email at info(at)ahpinvest(dot)com.