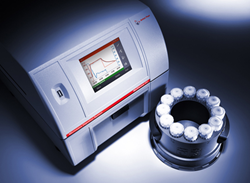 Ashland, Virginia (PRWEB) May 19, 2014
Traditionally, microwave digestion systems have been limited by the method of delivery of the microwave energy. Monomode systems deliver focused microwave energy, but only to a very small cavity – limiting throughput of the digestion system to a single vessel. Multimode systems deliver random microwaves into a larger cavity accommodating multiple vessels, but due to the cavity size, heating and cooling times are significantly longer.
To make microwave digestion faster, the Multiwave GO utilizes a new method of microwave delivery called Directed Multimode Cavity (DMC) and provides the best of both monomode and multimode microwaves. Patent pending DMC technology allows uniform delivery of focused microwave energy into a multimode cavity leading to heating and cooling rates of a monomode system with the vessel throughput of a multimode system.
To make microwave digestion simpler, the Multiwave GO uses the HVT50 vessel that employs the Smart-Vent temperature independent pressure-activated-venting technology. The Smart-Vent feature allows the vessel to reliably vent off the excess reaction pressure at 20bar. As a result, the HVT50 vessel does not require internal sensors for pressure or temperature monitoring, does not need tools for closing the vessels, and has no consumables parts – all of which ensure using the system is easy, and preparation time is kept to a minimum.
To make microwave digestion more affordable, the Multiwave GO has been priced under $16,000.
For more information about the new Multiwave GO, please contact Anton Paar at info.us(at)anton-paar(dot)com or 800-722-7556.