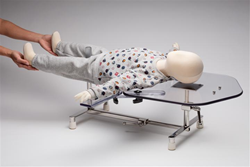 The Pediatric Spica Table is specifically tailored for child-care specialists working within a professional medical setting.
Monterey, California (PRWEB) May 15, 2014
Industrial Engineering Machine LLC is now accepting orders of the latest version of their much-lauded Pediatric Spica Table, with new features and functionality, including a scratch resistant radiolucent polycarbonate tabletop, polished stainless steel components, and fully adjustable modular arm supports.
Radiolucent Components:
In addition to the tabletop, the interchangeable spinal supports and multiple perineal posts are also made of scratch-resistant radiolucent polycarbonate. This means that xrays can be taken during the casting process without disturbing the patient, or disrupting the casting process resulting in greater patient comfort, and increased assurance of alignment accuracy.
The ability to perform xrays during the casting process without having to move or reposition the patient due to the radiolucent components can result in:

Fewer required recasts
Higher levels of casting efficacy
More positive outcomes
When these results are combined with less time on the table, and an associated decrease in cost, it's no wonder that the Pediatric Spica Table has been so well received by casting technicians and Doctors around the world.
Adjustable Arm Supports:
The Pediatric Spica Table now comes with fully adjustable removable arm supports that are made of the same scratch-resistant radiolucent polycarbonate material as the tabletop, spinal supports, and perineal posts. This provides casting technicians with the ability to allow the patient to rest more comfortably on the table during the casting process, without having to restrict or restrain the non-affected limbs of the patient. A more comfortable patient results in less unnecessary movement, less patient anxiety and associated trauma, and a smoother process overall. The arm supports are fully modular and adjustable, and can be removed and stored in the included storage case that fits neatly over the tabletop when they are not needed.
Polished Stainless Steel Structural Components:
The structural metal components of the Pediatric Spica Table are now made from polished 304 Stainless Steel, including the adjustment handles and fasteners. This type of stainless steel is strong, durable, and resistant to corrosion, and is also much easier to clean and maintain, resulting in greater product resilience and longevity.