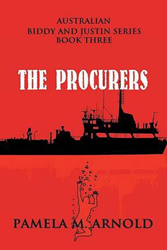 (PRWEB) May 20, 2014
In the thriller "The Procurers: Biddy and Justin Series Book Three", amateur senior sleuths Biddy and Justin find themselves back on board the Pacific Queen Royale, this time as gents for the Australian National Veterans Network. Their assignment is twofold: to cover why there is an increasing number of unexplained passenger disappearances at sea, and to keep an eye on a professor working with a world consortium to provide free, clean fusion energy via a Tokomak reactor in France. Biddy suspects that boat people are being abducted for their body parts, and are being processed aboard the Goliath, a giant fishing trawler fitted with huge freezers.One of the abductees is an American National, so the U.S. government is also involved. Biddy's investigation has brought her to the attention of the body snatchers. Will this macabre plot be brought down before Biddy faces a similar fate?
THE PROCURERS: BIDDY AND JUSTIN SERIES BOOK THREE (ISBN: 978-1-62857-
579-8) is now available for $19.50 and can be ordered through the publisher's website:
http://sbpra.com/PamelaMArnold or at www(dot)amazon(dot)com or www(dot)barnesandnoble(dot)com.
WHOLESALERS: This book is distributed by Ingram Books and other wholesale distributors. Contact your representative with the ISBN for purchase. Wholesale purchase for retailers, universities, libraries, and other organizations is also available through the publisher; please email bookorder(at)aeg-online-store(dot)com
About the Author: Retiring from a successful business at age 75, Pam Arnold discovered the fun of writing. "The Procurers", the third in the Biddy and Justin suspense thriller series, is acclaimed as the most exciting yet. It is often suggested that Pam now 81, should write her memoirs. The reply, an adamant, "No way, even the suggestion might alarm some people!"
Strategic Book Publishing and Rights Co, LLC