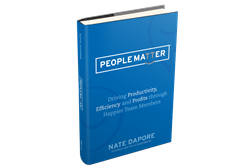 "If you get the right people on your team and really take the time to understand, connect with and develop them, you'll get greater productivity, better customer service, a more positive workplace, higher sales, lower turnover and more repeat business."
Charleston, SC (PRWEB) May 14, 2014
Believing that people really do matter in the workplace – and taking the steps to show customers and employees that they are important – is revolutionizing businesses nationwide and is the subject of a new book, "PeopleMatter: Driving Productivity, Efficiency and Profits Through Happier Team Members." In his book, Nate DaPore, President and CEO of PeopleMatter, shares inspiring stories from service industry companies around the country that engage and motivate their employees, spurring their growth as successful businesses.
DaPore explains the simple yet powerful idea that a business' people are the most valuable asset they have and how they are the key to overcoming business challenges – such as high turnover and slim margins. If a business can better understand who its employees are, what they want, and how to effectively engage and motivate them, then the business can easily take its success to a whole new level.
"If you get the right people on your team and really take the time to understand, connect with and develop them, you'll get greater productivity, better customer service, a more positive workplace, higher sales, lower turnover and more repeat business," said DaPore. "And that's just the beginning."
The book offers actionable tips on how to give employees more meaning in the workplace, as well as real-life examples of how doing so will make businesses thrive. The payoffs can be huge, such as greater efficiency, higher productivity and better customer service. The biggest value, however, comes from appreciating people, investing in people and using technology as a catalyst to support it.
Featured in the book are numerous case studies and stories from companies like Boloco, Thortons, Noodles & Company, Roadrunner Markets and Wildflower Bread Company, to name just a few.
"Because the workforce tends to be transient and turnover is high in the restaurant industry, some companies don't believe it's worth the effort to invest in people, because those people are not going to be around long enough to see the fruits of their efforts," shared Louis Basile, CEO of Wildflower Bread Company in the book. "From my perspective, I feel we have to invest in people; we have a responsibility to give more than we ask to everyone who comes in contact with the Wildflower."
Because real change is about more than just theory, the book also provides action items that employers and managers can use right now to make their workplaces better with the end result being happier employees and happier customers, which in turn leads to higher sales and better margins – and who wouldn't want that?
Purchase a copy today and learn from other businesses how to best impact employees by giving them support, meaning and value. The book is available online and at bookstores, including Barnes & Noble, Amazon, Books-A-Million, Target and 25,000+ stores nationwide.
To schedule an author interview with Nate DaPore, please contact the Media Department at PeopleMatter at 843.300.3447 or media(at)peoplematter.com.
About the Author:
Nate DaPore is the founder, President and CEO of PeopleMatter, a purpose-driven software company focused on creating change in the hourly workforces of some of the best companies in the world. Prior to PeopleMatter, he was a Principal at Battery Park Ventures investment company and VP of Enterprise Sales at Benefitfocus. Nate sits on the Board of Directors of the Charleston Digital Corridor, which helps advance entrepreneurs launching innovative technology companies in Silicon Harbor. He also sits on the Board of Trustees of Hampden-Sydney College and received TiE Atlanta's "Top Up-and-Coming Entrepreneur" award in 2011.
Product Details:
ISBN-13: 9781599324579
Publisher: Advantage Media Group
Publication date: 5/28/2014
Pages: 136
About PeopleMatter
PeopleMatter is a powerful and complete workforce management platform designed to fit the specific needs of service-industry brands. Our complete set of mobile, workforce solutions and business analytics tools connect processes, employees and customers in entirely new ways. Automating and optimizing people processes since 2009, PeopleMatter helps more than 41,000 service-industry locations thrive through better efficiency, engagement and customer satisfaction. PeopleMatter is headquartered in Charleston, SC and on the Web at http://www.peoplematter.com, @peoplematter and Facebook.com/PeopleMatter.HR.