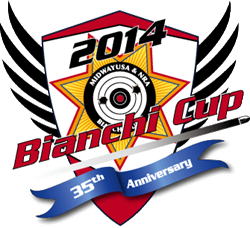 "As a Missourian, I'm fortunate to have this long-standing and highly respected event practically in my backyard. We look forward to being there and showcasing the SureShot™ collection to some of the most talented competitive shooters in the world."
St. Louis, Missouri (PRWEB) May 15, 2014
SureShot™ Jewelry (http://www.sureshotjewelry.com), industry leader for shotgun and bullet casing jewelry in the United States, has signed on as a Bronze Sponsor for the 2014 35th Anniversary MidwayUSA & NRA Bianchi Cup National Championship.
Known as the most prestigious and richest shooting tournament in the world, the event will take place in Columbia, Missouri between May 21 and May 24, 2014 at the historic Green Valley Rifle and Pistol Club. The Bianchi Cup draws shooters from across the globe, including Australia, Austria, Barbados, Canada, Germany, Italy, Japan, the Netherlands, New Zealand and the United States.
In addition to being a Bronze Sponsor for the match, SureShot™ is donating three of its best-selling Mixed Metal Loaded Bullet & Shotgun Casing Charm Bracelets for inclusion in the Ladies Purse. The company will also donate its SureShot Bucks gift certificates in the Competitor Bags; each gift certificate is worth $10.00 off a purchase from the SureShot™ website. Anne Jansen, founder/designer, will also be present in the vendor tent all four days of the event, selling the SureShot™ collection.
"We're thrilled to be part of this very special anniversary year of the MidwayUSA and NRA Bianchi Cup National Championship," remarked Ms. Jansen. "As a Missourian, I'm fortunate to have this long-standing and highly respected event practically in my backyard. We look forward to being there and showcasing the SureShot™ collection to some of the most talented competitive shooters in the world."
SureShot™ is recognized for its distinctive style and quality materials. The made in the U.S.A. collection is priced from $25.00 to $275.00 and features over 200 styles, including necklaces, bracelets, cuffs, earrings and rings.
SureShot™ offers not only a complete line of women's jewelry but produces an entire line of jewelry for men and a wide selection of men's accessories, including leather goods, hip flasks and more. The collection also includes a limited edition line of unisex shooting medal necklaces created from authentic medals dating back to the 1940s. These medals, which were once the standard ribbons awarded to top shooters in state level tournaments, are sure to draw the attention of many of the competitors at the tournament.
SureShot™ is available at retail locations, gun shops and tactical stores across the country as well as on the SureShot™ website at http://www.sureshotjewelry.com.
Visit http://www.facebook.com/sureshotjewelry to get the latest news on SureShot™ Jewelry. SureShot™ is also active on Twitter (@sureshotjewelry) and Pinterest (sureshotjewelry).
ABOUT SURESHOT™ JEWELRY
SureShot™ Jewelry prides itself on its commitment to the spirit of American traditions. It is empowering, yet fashionable; it represents anything from a symbol of confidence to a token of strength, a statement of rights, a definition of identity and so much more. It utilizes only the best in American-made components, findings and chain, and thoughtfully incorporates related components such as genuine deer antlers, turkey and pheasant feathers, cowhide leather and more, all in keeping with the look and theme of the rustic collection. SureShot™ even has fishing and waterfowl related jewelry offerings. SureShot™ sources both the widest inventory of bullet casings from pistol, revolver and semi-automatic rounds, hard to find calibers as well as all of the popular gauges of shotgun casings – all from well-known brands such as Winchester, Remington, Speer Federal, Fiocchi, Kent, S&B and more.
Overall, this commitment to American tradition has allowed for SureShot™ Jewelry's strong and swiftly growing retail presence both online and in select retailers, boutiques, gun shops, gun clubs and western stores all over the country in a very short time. SureShot™ has had recent recognition in magazines such as Cowboys & Indians and Western & English, and has been worn by public figures on national television. Select pieces were showcased and gifted to all of the celebrities at the 2012 Primetime Emmy Awards in Hollywood, California as well as to the biggest names in country music backstage at the 46th Annual CMA Awards in Nashville, Tennessee in 2012. In just a few weeks, SureShot™ will return to Nashville, this time as an Exhibitor at the CMA Music Fest, the largest festival in the country.
###