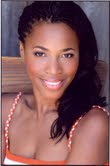 Dallas, TX (PRWEB) May 14, 2014
Grammy and Tony Award Nominee, Valisia LeKae, was starring in the Broadway role of a lifetime, playing Diana Ross in "Motown the Musical." Then Valisia was diagnosed with ovarian cancer.
Early this year, Valisia joined forces with the National Ovarian Cancer Coalition to play one of the most important roles of her life, and plans to win. As the organization's National Spokesperson, Valisia has been busy raising awareness about the disease.
Valisia understands the need for women to be proactive about their health, and that early detection saves lives. "It's another way for me to use my voice and be an advocate for this disease. I want to talk about it. I just want people to be aware."
Ovarian cancer continues to be the deadliest of all gynecological cancers. According to the American Cancer Society, a woman's risk of getting ovarian cancer in her lifetime is approximately 1 in 71. This year it is estimated that 21,980 women will receive a new diagnosis of ovarian cancer, and 14,270 will die.
"Ovarian cancer is more than a woman's disease ®," says David Barley, Chief Executive Officer of the National Ovarian Cancer Coalition. "We see families torn apart with the loss of a mother, wife, sister, daughter, grandmother."
There is no test to detect ovarian cancer; a pap test does not detect the disease. There are symptoms, which are mostly subtle, that can mimic symptoms of unrelated conditions. For these reasons, ovarian cancer had been termed "the silent killer."
Symptoms of ovarian cancer include bloating, pelvic pain, feeling full quickly, and frequent urination. Signs can also include fatigue, upset stomach, back pain, constipation and menstrual changes. Women who experience symptoms that persist for more than two weeks should see their doctor and a gynecologic oncologist if ovarian cancer is suspected.
Please join Valisia, and others, at the NOCC Northern VA Chapter's 12th Annual Run/Walk 5K and TEAL Mile, and help Break the Silence on Ovarian Cancer ®, on Sunday, May 18, at Fairfax Corner. Come hear Valisia as she shares her story and delivers her message of awareness and education about the disease.
For details about the event, including registration information, please follow this link: http://nocc.kintera.org/faf/home/default.asp?ievent=1100167.
About the National Ovarian Cancer Coalition
Since its inception in 1995, the National Ovarian Cancer Coalition (NOCC), a designated 501(c)3 organization, has been committed to raising awareness of ovarian cancer, and providing support, education, and hope for women affected by the disease, and their families. The NOCC remains steadfast in its mission to save lives by fighting tirelessly to prevent and cure ovarian cancer, and to improve the quality of life for survivors.