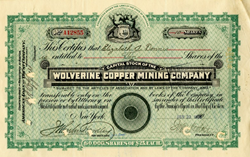 Old stock and bond certificates are extremely historic and fun to collect.
Washington DC (PRWEB) May 15, 2014
Scripophily.com®, the Internet's largest buyer and seller of collectible stock and bond certificates, is offering original stock certificates from old mining companies from the United States and Canada. These certificates are from all types of mining operations including gold, silver, coal, titanium, uranium, radium, and others. They are from major gold and copper operations in California, Colorado, Michigan, Utah, Dakota Territory, Arizona Territory, and throughout Canada. We are offering both issued and unissued certificates.
Scripophily.com has recently added a collection of RARE Michigan stock certificates from the Wolverine Copper Mining Company issued in 1903, Michigan Copper Mining Company issued in 1901 and the Mohawk Mining Company issued in 1907. Both the Wolverine Copper Mining Company issued in 1903 and Michigan Copper Mining Company issued in 1901 certificates have not been seen before and only one example of the Mohawk Mining Company issued in 1907 has ever been seen prior to our discovery. "We are extremely excited about this recent find" says Bob Kerstein, CEO Scripophily.com.
Scripophily (scrip-ah-fil-ly) is the name of the hobby of collecting old stock and bond certificates. Certificate values range from a few dollars to more than $500,000 for the most unique and rare items. Tens of thousands of Scripophily buyers worldwide include casual collectors, corporate archives, business executives, museums and serious collectors.
Stock and bond certificates are collected because of their historical significance, beauty and artwork, autographs, notoriety, as well as many other factors. The supply of new certificates reaching the collector market has been substantially reduced due to changes in state laws and stock exchanges rules. Many companies are no longer required to issue paper stock and bond certificates, and only issue them in electronic form. This has increased the collectability of the existing paper certificates due to their scarcity.
Scripophily.com owns and operates OldCompany.com, which researches old stock and bond certificates to help determine possible redeemable value. Scripophily.com's Old Company Research Service is celebrating 134 years of continuous old stock and bond research services which began in 1880. Scripophily.com is also celebrating its 18th successful year on the Internet and has over 17,500 selections in its online store. Last year was an impressive year for Scripophily.com and OldCompany.com with over 1.3 million visitors and 3.7 million page views during the twelve month period ending December 31, 2013.
Scripophily.com's Old Company Stock Research Service can determine whether or not old stock certificates have redeemable and/or collectible value. The old company and securities research service provides investigative analysis for financial and accounting firms, professionals, attorneys, investors, estates and trusts in cases of questioned securities and lost company identities. The research investigations will probe into the corporate history, capital changes, mergers, acquisitions, bankruptcies, legal proceedings, regulatory filings, and analysis of companies to assess the disposition of financial holdings.
Scripophily.com is the internet's leading buyer and seller of collectible stock and bond certificates and has had items on loan for display in the Smithsonian's Museum of Financial History in New York. The company has been featured on CNBC, USA Today, Associated Press, Reuters, Nightline, Today Show, Baltimore Sun, and Washington Post and in many other media publications.
Scripophily.com /Old Company Research Service is the successor company to all material published by the Marvyn Scudders Manuals, the Robert D. Fisher Manuals, and the Herzog & Co., Inc. obsolete research services, which have been performed continuously since 1880. We are the leading provider of authentic stock certificates, autographs, and old company stock research services.
Scripophily.com was founded by Internet Pioneer, Bob Kerstein (Bob.com). Bob is a CPA and CGMA, and has more than 38 years of senior management experience in the Cellular, Cable TV, Satellite, Internet, Professional Sports and Entertainment Industries. Bob is also the President of the Professional Scripophily Traders Association (PSTA).
For more information on Scripophily.com®, visit http://www.scripophily.com, http://www.scripophily.net, http://www.oldcompany.com or call 1-703-787-3552.
# # #