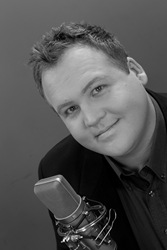 New York, NY (PRWEB) May 16, 2014
Geoffrey Stone, better known as Geoffrey The Giant, debuted his new music video "Rock, Paper, Scissors, Lizard, Spock" on Vevo, along with a fully-interactive online game that pays homage to the hit CBS show, the Big Bang Theory. As a longtime fan of the show, Geoffrey had this to say about the game and the video:
"I thought it would be fun to write a song about the game. There seems to be a lot of people out there who play it. So I reached out to Sam (the game's creator) and got his permission to make the video and a web app for the game. Being a fan of Big Bang, I loosely based the lyrics off of the end of the fourth season. It was kind of like my own alternate ending to the season - a 'what-if' scenario wherein Leonard confronts Raj and challenges him to a duel for Penny's love... in a Rock, Paper, Scissors, Lizard, Spock 'death match'."
After spending over 14 years in the music industry honing his craft, Geoffrey the Giant has forged his own unique style that combines a myriad of eclectic sounds, incorporating elements of Pop, Rock, Blues, and Big Band Swing-Pop. His new album, Geoffrey The Giant's Big Bang, showcases satirical as well as serious elements of songwriting, and highlights his strong musical abilities. The result is like fusing together the best features of Barenaked Ladies, Ben Folds Five, and Michael Buble.
In his years of climbing to the top of the beanstalk that is the music industry, Geoffrey has worked with some of his fellow Canadians who are world-renowned. Before she became a megastar, Geoffrey sang a duet with Carly Rae Jepsen on Canadian Idol (the Canadian counterpart to American Idol). His first record, Faith in the Unknown, features a duet with Juno award-winning artist Ron Sexsmith - who counts Paul McCartney and Elton John among his fans. The new full-length record is slated to be released this Fall, and the single is currently available for download on iTunes and more. For additional information and to watch the video and play the game, visit Geoffrey The Giant's official website.