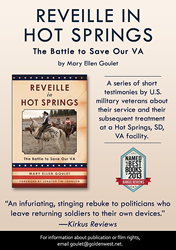 I am first and foremost angry and upset at how veterans are being treated by the organization that is intended to provide their care.
(PRWEB) May 21, 2014
Named one of "The Best Books of 2013" by Kirkus Reviews, "Reveille in Hot Springs: The Battle to Save Our VA" is a wake-up call to Americans.
Mary Ellen Goulet presents first-hand accounts of veterans who served from World War II through Afghanistan, soldiers who want the government to retain rural VA hospitals and the benefits they were promised. A special foreword by South Dakota Senator Tim Johnson is included, followed by honest, poignant, and revealing stories told by those who served our nation. The veterans in this book used the VA facility in Hot Springs, South Dakota. They ask that VA hospitals remain in peaceful, rural settings that are more conducive to emotional healing for the vets suffering from PTSD, substance abuse, brain trauma, and exposure to Agent Orange and other toxic chemicals.
As one Vietnam veteran stated: "We fought the wars. Then we came home and fought to fit in. Then we fought to get our disability claims. And now we have to fight to save our Dom. It is not a battle I choose. It is a battle I have to do. And, if we lose, I can say at the end of the day, I did what I could do."
The veterans did not find it easy to share their stories. All they ask is that the public help them fight this battle.
When word came that the government was considering shutting down the Hot Springs VA, in many ways the fight to "Save the VA" became a fight to save Hot Springs. "I am first and foremost angry and upset at how veterans are being treated by the organization that is intended to provide their care," says the author. "But at the same time, if the VA goes, it will affect this community. It is a vital part of our community and the ripple effects will continue if it goes away."
Excerpts from the book's glowing Kirkus Review:
"The shutdown would require veterans to seek help hours away without reimbursement of travel expenses … There are more than two dozen stories here from World War II, Korea, the Balkans and one Middle Eastern fiasco after another … The veterans, mostly men, tell stories about the distress they've lived with for years, and it's clear that without a close sanctuary such as the Hot Springs facility – which is shown to have had a gentle hand, an easeful pace and a personal touch – many lives would be diminished. 'We believe if we don't stop these closures here and now, then veterans will have no choice but to relocate to urban centers where the focus will be on VA convenience and not on veteran care,' the author writes … An infuriating, stinging rebuke to politicians who leave returning soldiers to their own devices."
REVEILLE IN HOT SPRINGS: THE BATTLE TO SAVE OUR VA (ISBN: 978-1-484-05398-0) is available for $20 and can be ordered through:
http://www.amazon.com at http://www.amazon.com/Reveille-Hot-Springs-Battle-Save/dp/1484053982.
About the Author: Mary Ellen Goulet is a freelance writer in Hot Springs, South Dakota. Her previous books include A (Not So) Simple Life: Our Return to Rustic Roots, describing her "off-the-grid" life in the Black Hills of South Dakota, and Cascade of Flames, about the treacherous forest fire that destroyed her ecological, "fire-resistant" home.
Author Marketing Ideas (AMI)