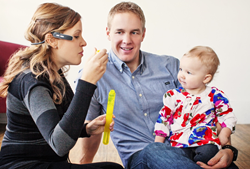 Florida (PRWEB) May 15, 2014
LifeLogger, an innovative company committed to changing the way people remember their life, has introduced the world's first head worn wearable camera meant to capture, share and make memories digitally searchable and forever stowed. LifeLogger has developed the ultimate life logging system, equipped with a cloud solution and metadata processing software that will actively store memories and make them available on the web, desktop and all mobile devices.
On Kickstarter, Lifelogger set a goal to raise $150,000 and after just 2 days its has already raised $43,000 which is an amazing 29% of the target amount.
https://www.kickstarter.com/projects/lifelogger/lifelogger-the-ultimate-lifelogging-experience?ref=discovery
Equipped with GPS and Wi-Fi, LifeLogger can be easily controlled from a smartphone via the Android and iOS app. The LifeLogger app allows users to control their camera, manage existing videos, sign in to a cloud account and either automatically upload the footage or choose to manually upload the videos and memories desired. Battery and memory status is also visible via the LifeLogger app, as well as the option to turn live streaming on and off.
LifeLogger lets you live stream video to any desktop, tablet or smartphone as long as there is a Wi-Fi connection, making life's moments instantly shareable the moment they happen. Along with live streaming video content, LifeLogger will also stream GPS coordinates, compass data of the direction heading, GYRO and voice.
Users don't need to plug in their LifeLogger to the computer through the included USB cable (although they can) to store all their content. LifeLogger will upload your memories automatically once connected to Wi-Fi, storing them to the cloud and filing them on a simple 3D timeline, organized by date. Once footage is uploaded to the metadata processing software, it undergoes an image stabilization process, enhancing the quality of every moment captured. Face detection, optimal character recognition, voice recognition and GPS positioning on a map are also scanned and stored using algorithms which give the user an unparalleled way to search and re-live their memories.
LifeLogger shoots video in the direction the camera is looking at, giving a truly accurate point of view shot. The LifeLogger team has undergone vast and intensive research that has proved that the most effective way to get a true recording of one's eye is by wearing the camera around the head; camera's worn around the neck or clipped will only capture half of the entire picture. As a result, the team has developed a headpiece solution that proves to be comfortable, durable, lightweight and sturdy for daily use. Similar to Google Glass, the LifeLogger becomes as seamless as it is integral to a daily routine.
Additional features of the LifeLogger include:

Video resolution at 720p 30fps
Still images at 5 megapixel, 4:3
90 degree fixed lens
Photo burst, up to 10 per second
Time lapse, up to one photo per 60 seconds
Photo snapshot
32GB of internal memory
Estimated availability for the LifeLogger camera is end of year 2014, with the first run of mass production anticipated to be sometime between October and November, and shipping in December just in time for the holidays. Starting today, anyone can support LifeLogger backing our camera thru Kickstarter.com, where backers of $169 or more are rewarded with a camera and three months of up to 25GB of cloud storage and free video and metadata processing.
Please Visit Us at http://www.lifelogger.com