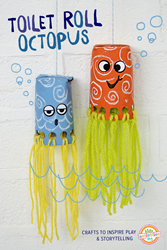 Toilet roll crafts are great for school and home.
Dallas, Texas (PRWEB) May 25, 2014
Toilet roll crafts for kids are one of the best home or classroom crafts. Cute toilet roll octopus crafts and a gallery of potty training tips have been published on Kids Activities Blog. Toilet roll crafts are the best because they are simple, quick, and cute.
In less than 30 minutes kids will have little Wiggles and Oggys to play with. Materials needed to make the cute creatures are toilet paper rolls, yarn, goggly eyes, glue, chalk, and paint.
Start by making four slits in one end of the toilet roll. Fold the pieces in on each other and glue into position. Punch holes all around the base of the other end. Then paint the tube and attach the eyes.
Finally, loop some lengths of wool into the holes all around the base for the wibbly wobbly tentacles.
Some kids pick up fast and others move at a different pace. Moms are sharing helpful potty training tips that got their youngsters to master the challenge. Kids tend to regress when a new baby has arrived. That is completely normal.
Providing favorite character panties in the morning with a challenge to change into boring underwear when an accident happened has helped to master the challenge.
Setting a timer for 30 minutes and praising successes is another great advice. Providing small rewards to going to the potty will get the little ones more excited about the whole new habit.
For detailed instructions and to get additional fun ideas, check out Kids Activities Blog this week. Come get inspired to get the kids using the toilet with a smile on their faces.
About Kids Activities Blog
Kids Activities Blog is a website created by two moms (who collectively have 9 children), Holly Homer and Rachel Miller. Their new book published by Page Street, 101 Kids Activities That Are the Bestest, Funnest Ever! will be released June 10. It is currently pre-selling on Amazon and Barnes and Noble. Kids Activities Blog is an interactive website that publishes fun things to do with kids twice a day. It is an amazing resource for moms, dads, grandparents, caregivers and teachers to find kid-friendly activities that create memories and sneak learning into the fun.