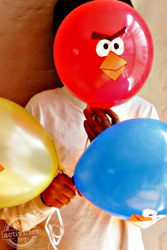 Set up an Angry Birds water balloon fight this week.
Dallas, Texas (PRWEB) May 23, 2014
Get ready for great ideas for the next birthday party. Fun Angry Birds balloon games and preschool science experiments have been published on Kids Activities Blog. The ideas are easy to do and will be fun for kids of all ages.
Simply make a set of colorful Angry Birds out of balloons and face templates. Print out the face templates published on Kids Activities Blog and glue them onto the balloons.
Line up the balloons and play a game of target practice with a dart gun. If the balloons are outside let the kids use sling shots to bounce the balloons.
An Angry Bird water balloon flight is fun for younger and older kids. Fill up a water balloons and let the kids have a blast smashing the birds.
Science experiments engage curious minds. Engage the little ones curious nature of why and use hands on activities to explain. Introduce a lesson on surface tension by making color changing milk. This is a kid favorite. An awesome naked egg experiment uses a secret ingredient to remove an egg shell from the egg, keeping it contained in the membrane.
Bringing back a classic experiment with sound waves and show the kids how they can travel through a string. Teach kids how clouds form in our atmosphere with this hands on experiment to create a cloud right in your kitchen.
Explain to kids why the moon appears to change shapes with a fun experiment about moon phases. Learn about Earth Worms and how they help the garden by creating miniature habitat for them to live.
For detailed instructions and to get additional fun ideas, check out Kids Activities Blog this week. Come get inspired to spark the kids imagination with fun science experiments.
About Kids Activities Blog
Kids Activities Blog is a website created by two moms (who collectively have 9 children), Holly Homer and Rachel Miller. Their new book published by Page Street, 101 Kids Activities That Are the Bestest, Funnest Ever! will be released June 10. It is currently pre-selling on Amazon and Barnes and Noble. Kids Activities Blog is an interactive website that publishes fun things to do with kids twice a day. It is an amazing resource for moms, dads, grandparents, caregivers and teachers to find kid-friendly activities that create memories and sneak learning into the fun.