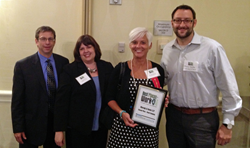 "We engage our employees in firm management."
Deerfield, IL (PRWEB) May 15, 2014
Warady & Davis LLP (W&D), a top 25 Chicago CPA & consulting firm, along with 64 other area companies, was recognized this week as a Best Place to Work in Illinois 2014 for providing employees with a successful work environment by Best Companies and The Daily Herald Business Ledger. Read More
W&D is ranked #2 in the small employer category (25-99 employees) and is the highest ranked certified public accounting firm in all employer size categories. "We are particularly proud of this achievement because we have worked hard to make W&D a 'best place' to work. This has helped us mange intense competition for talent and high turnover rates in the public accounting profession. We thank every firm member for their important contributions and confidence in the W&D family," said Richard Franklin, CPA, Co-Managing Partner of W&D.
Firm members cited a variety of reasons for job satisfaction including feeling a part of a team, that their contributions are appreciated, valued and that the work they do makes a difference. Comprehensive training through W&D University and fun activities were also mentioned.
"We have some great examples of how we engage our employees in firm management," said Jo Ann Porter, CPA, Partner and Managing Director of Human Capital. "When staff wanted to revise the firm's bonus program, we replied, Great! Tell us how you would change it. Staff formed a committee to redesign the program, presented their ideas to Warady & Davis LLP's management team and their plan was put into place last year," said Porter. "Staff also designed our recently rolled out coaching/mentor program, are in the process of redesigning our performance evaluations and more," she adds.
Quality of Life is a major issue in the deadline intensive public accounting firm environment. In addition to very generous PTO, fun outings year round and teamwork activities throughout tax season, W&D also is forming new quality of life committees including "Fun" (outings, etc.) and "Giving Back" (charitable initiatives). "We want our employees to have a voice in where we go together, what we do and who we serve," said Porter.
As part of developing W&D's professional staff, the firm also has an intensive internship program for accountancy students in their senior and master program years designed to help them grow, gain knowledge, earn scholarships, significant compensation and more. "The vast majority of our interns join us on a full-time permanent basis upon graduation, including all of our 2014 interns," said Porter. NIU student, Jake M. of Northern Illinois University, writes about his experience with W&D here.
"As a firm, we commit to continue to build on our employee engagement initiatives. Together we will continue to make W&D a 'Best Place to Work in Illinois'," concludes Franklin.
About Best Places to Work in Illinois. The awards program began in 2006 and is promoted by The Daily Herald Business Ledger in partnership with the Human Resources Management Association of Chicago (HRMAC), the Illinois State Chamber of Commerce, and the Workforce Boards of Metropolitan Chicago. The 2014 Best Places to Work in Illinois list is made up of 26 companies in the small employer category (15-99 U.S. employees), 23 companies in the medium employer category (100-499 U.S. employees), and 16 companies in the large employer category (500 or more U.S. employees).
About Warady & Davis LLP. Warady & Davis LLP, a top 25 Chicago Area certified public accounting & consulting firm headquartered in Deerfield, Illinois, provides a full range of audit, accounting, tax and consulting services and solutions to privately-held businesses, owners, high net-worth individuals and their families. W&D serves clients in a wide variety of industries located in the state of Illinois and throughout the United States and their interests abroad. Client revenues may range from start-up enterprises to $500,000,000+ in annual revenue. http://www.waradydavis.com
Contact:
Leslie Flinn, Director of Marketing & Recruiting
Warady & Davis LLP
lflinn (at) waradydavis (dot) com
(847) 267-9600