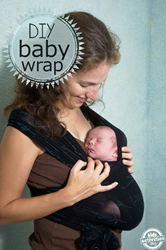 Baby wraps can help calm a fuzzy baby.
Dallas, Texas (PRWEB) May 17, 2014
Baby carriers and baby wraps can be expensive at the store. A DIY baby carrier and play ideas for kids in the kitchen have been released on Kids Activities Blog. Seasoned Moms are sharing a great idea that will help any mom with a baby.
All one needs is a scissor and the ability to cut a straight line. No sewing is needed. The instructions are simple. The secret to a comfy wrap is the fabric. Buy fabric that is interlocking where the edges do not fray when cut. Since the edges do not fray, the wrap does not require sewing.
Buy about 5-6 yards of interlock fabric. Each batch of fabric can create 2-3 wraps. Cut the fabric into long strips. Fold the fabric like a hotdog. The width of each strip needs to be a minimum of 16 inches wide.
Then follow the simple steps to safely wear the fabric with the baby. Baby wearing can help you get chores done around the house or to help you calm a fussy baby.
The kitchen is a perfect place to occupy little ones while Mom cooks. Use kitchen items for both science and play. You won't have to go far to find everything you need to play with kids in the kitchen. Almost all of the ideas published on Kids Activities Blog are used with things that we already cook and clean with.
Create tulips out of forks or play bubbles with the kitchen soap. Transform kitchen scrubbers into paint sponges and let the child's imagination roar.
Create a set of mystery kitchen bags for the little ones. The kids will be occupied long enough until Mom is finished cooking. Practicing lacing with a sink mat and making spin art with the lettuce spinner are just a few of the ingenious ideas.
An ice cube tray can make a fun science experiment. Saving some styrofoam for learning basic sewing skills are both fun and educational for kids.
For detailed instructions and to get additional fun ideas, check out Kids Activities Blog this week. Come get inspired to have a blast with the kids this week.
About Kids Activities Blog
Kids Activities Blog is a website created by two moms (who collectively have 9 children), Holly Homer and Rachel Miller. Their new book published by Page Street, 101 Kids Activities That Are the Bestest, Funnest Ever! will be released June 10. It is currently pre-selling on Amazon and Barnes and Noble. Kids Activities Blog is an interactive website that publishes fun things to do with kids twice a day. It is an amazing resource for moms, dads, grandparents, caregivers and teachers to find kid-friendly activities that create memories and sneak learning into the fun.