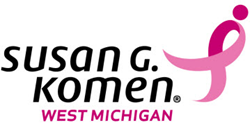 For more than 16 years, they have worked to ensure that all people have access to quality breast health services regardless of their income, zip code or race.
Grand Rapids, Michigan (PRWEB) May 15, 2014
Michigan's health care landscape has evolved with the launch of the Affordable Care Act and the Healthy Michigan Plan. Throughout these changes, the West Michigan Affiliate of Susan G. Komen remains a trusted funding resource for undeserved individuals. Federal and state-funded programs will now be able to assist uninsured or underinsured women between the ages of 40 and 64 who have an income at or below 250 percent of the federal poverty level.
While this represents a large population, women with incomes above the stated guideline but still considered impoverished or women under 40 will not have access to these funds. Symptomatic women additionally often forego expensive diagnostic services like biopsies, preventing the opportunity to seek treatment and increasing the risk of a later stage, life-threatening diagnosis. To better serve this population of women, Komen West Michigan partners with local organizations to provide quality breast health education and services.
"We try not to duplicate services and to remain focused on the gaps. If someone else is filling a need, we identify other areas in our community's breast health needs to address," explained Jennifer Jurgens, Komen West Michigan Executive Director. "Each year an independent grant review committee comprised of local public health constituents selects the most promising applications for funding based on priorities that address the needs in our community. This ensures that each year's grant slate specifically addresses gaps in the continuum of care from education to screening, diagnosis and treatment."
Grantees for 2014 include:

Spectrum Health Betty Ford Breast Care Services will provide diagnostic services for women who have a screening mammogram that results in a suspicious finding but are not eligible for state or federal programs or are un/underinsured. They will also work to increase access to breast care services in Montcalm, Newaygo, Ottawa and Muskegon counties with a focus on African American and Hispanic women.
Hackley Community Care Center will offer education, breast screening and diagnostic services to low-income women who do not qualify for state/federal programs in Muskegon County.
Spectrum Health Gerber Memorial will provide diagnostic services for women with a suspicious finding on their screening mammogram but are not eligible for state/federal programs or carry high-deductible insurance. Additional steps will be taken to provide comprehensive breast health services in Newaygo County targeting rural women and those under the age of 40.
Muskegon Family Care will support breast screening services that are not currently covered through other state/federal programs to provide 240 service visits in Muskegon County. They will also conduct in-reach to their current patient population to identify all female patients in need of screening with education regarding the importance of breast health and where to access breast health services locally.
"Komen West Michigan's programs are a wonderful complement to the services provided to individuals who qualify through the government-funded Women's Health Network's Breast and Cervical Cancer Control Program (BCCCP)," said Sally Cory, Kent County Health Department Women's Health Network Coordinator. "However, BCCCP funds are limited, and not everyone who needs services qualifies. That's where Komen West Michigan comes in. For more than 16 years, they have worked to ensure that all people have access to quality breast health services regardless of their income, zip code or race."
Individuals living in West Michigan that have questions about breast health or need help accessing services can direct their inquires to Komen West Michigan.
"Often, a person will call us with questions or seeking services. After a brief conversation, we can help direct them to a grantee or one of the many partner programs available in our community, like the Women's Health Network," explained Jennifer Jurgens. "Komen West Michigan is a reliable resource for the community. If you need help, if you think there is a barrier keeping you from getting regular mammogram or checking on changes to your breasts, call us and we will help. Until there is a cure, early detection is our best weapon in the fight against breast cancer. We will continue our combined local screening programs combined with our global research projects until we end breast cancer forever."
###
About Susan G. Komen West Michigan: Komen West Michigan is an independent, local non-profit organization that is dedicated to combating breast cancer. 75% of Komen West Michigan's net proceeds go towards programs and funding grants to local hospitals and community organizations that provide breast health education, screenings, diagnostics and genetics testing for underserved men and women in Kent, Ottawa, Muskegon, Newaygo and Montcalm counties. The remaining 25% funds global, leading-edge research focused on the prevention of, and cures for, breast cancer.
Komen West Michigan's mission is to save lives and end breast cancer forever by empowering people, ensuring quality of care for all, and energizing science to find the cures. For more information call 616-752-8262 or visit http://www.komenwestmichigan.org.
Connect with Susan G. Komen West Michigan on Facebook at facebook.com/KomenWestMich and Twitter @KomenWestMich.
About Susan G. Komen: Susan G. Komen is the world's largest breast cancer organization, funding more breast cancer research than any other nonprofit while providing real-time help to those facing the disease. Since its founding in 1982, Komen has funded more than $800 million in research and provided more than $1.6 billion in funding to screening, education, treatment and psychosocial support programs serving millions of people in more than 30 countries worldwide. Komen was founded by Nancy G. Brinker, who promised her sister, Susan G. Komen, that she would end the disease that claimed Suzy's life. Visit komen.org or call 1-877 GO KOMEN.
Connect with Susan G. Komen (National) on Facebook at facebook.com/susangkomen and Twitter @SusanGKomen.