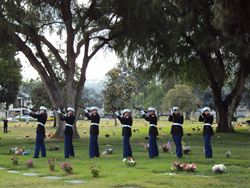 Whittier, CA (PRWEB) May 16, 2014
The Gardena Nisei Memorial VFW Post 1961 will hold their annual Nisei Memorial Day Service honoring all deceased Post members who served in defense of our country on foreign soil. The Service will be held on Monday, May 26, 2013, 9:00 A.M. at Rose Hills Memorial Park & Mortuary, 3888 Workman Mill Road, Gate 10, Whittier, CA 90601. Phone: (562)699-0921.
The Veterans of Foreign Wars ritual for honoring deceased members will be performed by Chaplain, Low Dong. Floral tributes will be performed by family and friends in attendance in honor of fallen Comrades. Reverend Shumyo Kojima, Zensuji Soto Mission will deliver the invocation and benediction. Reverend Nobuko Miyoshi, West Covina Buddhist Temple and Reverend Kazuaki Nakata, Nishi Hongwanji L.A. will also be in attendance.
Also participating will be the Redondo Beach Union High School Marine Corps JROTC Honor Guard and Rifle Squad.
Please contact co-chairmen, Joe Kawata (626)282-2595 or Mits Kunihiro (626)355-1309, also Pam Amimoto (626)282-2595 or Linda Kunihiro (626)355-1309 for more information.
About Rose Hills
Rose Hills, the world's largest and most beautiful memorial park, features premium property, modern funeral home, and architecturally stunning chapels. Located in Whittier, CA, and encompassing more than 1,400 acres, it was founded 1914. For more information, contact Antoinette Lou at (562) 205-4656.
###
Online:
visit us: http://www.rosehills.com
follow us: http://www.twitter.com/rosehillsevents
watch us: http://www.youtube.com/RoseHillsMP