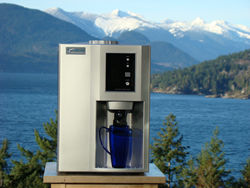 Generating fresh, clean, bacteria free water, you know you can trust
Spokane Washington (PRWEB) May 14, 2014
Spokane Washington Tech Company, Protelligent Finds AWG International Residential & Office Model 2500 Air-to-Water Generator "Truly A Marvel Of Technology"
May 14, 2014
Spokane, WA
AWG International Water Corporation (AWG International) (OTCBB: AWGI) and Protelligent a Spokane Washington tech company agreed to conduct a trial of the AWG International Model 2500 residential/office Air-to-Water Generator during the winter months with a view of establishing the capabilities for Air-to-Water Generator products in the Pacific Northwest Washington region. The test period time frame was February through May of 2014.
The Model 2500 unit was placed in the conference room of the Protelligent Spokane office during the test period and was conducted with indoor office quality air with humidity of 30% or less.
"Everyone in our office loves the AWG Atmospheric Water Generator. It truly is a marvel of technology" reports Protelligent Account Executive Jason Ball and goes on to say "the machine placed in our conference room has been producing plenty of pure, fresh tasting water and is quite a conversation piece for clients visiting our office. They are fascinated that the machine produces water from thin air. It's as if they associate our forward thinking for having the latest technology in drinking water with our expertise in providing them with the best technology for their computing environments."
Jeff Stockdale, Chief Operating Officer and President of AWG International makes it known "We are more than pleased with the Model 2500 water generation results during the test run at Protelligent, we're talking winter time in the Pacific Northwest with less than optimum ambient temperatures and humidity and the Model 2500 still manages to generate pure, clean great tasting drinking water from the air."
The AWG International Model 2500 atmospheric water generator, one of several generators in the AWG International current and pending product portfolio, offers some of the purest and best tasting drinking water available. Other generators include the larger Commercial and Industrial WaterPro Series product line, the WaterPro 100 and 400 capable of producing approximately 100 gallons (380 liters) and 400 gallons (1,520 liters) of fresh bacteria free drinking water per day respectively. AWG International atmospheric water generators incorporate US EPA -approved, proprietary filtering technology to create clean, safe drinking water from the air.
To know more about the Model 2500 and related AWG International water generation solutions, visit: http://www.awginternational.com
About Protelligent
"All-in" IT support, delivering an effective, efficient and dependable computer environment for your business. Unlike most Managed Service Providers, we guarantee the complete user experience.
Contact:
Jason Ball +1 509-378-3451
jball@protelligent.net
About AWG International
AWG International pioneered atmospheric water generation technology for extracting water from humidity in the air. Drawing from the renewable ocean of water vapor in the air that we breathe, our patented technology cost effectively transforms humidity into an abundant source of clean water near the point of use. Our scalable and modular systems can be configured for a number of water-sensitive applications ranging from oil and gas exploration to vertical farming. Our systems can also be configured to produce high quality drinking water for homes, offices and communities. For a thirsty planet on the verge of a water crisis, AWG International makes clean water out of thin air.
http://www.awginternational.com
AWG International Contact:
+1 888-757-3294 Ext: 104
cm@awginternational.com