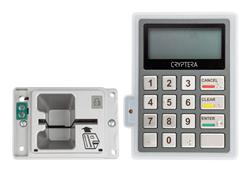 Copenhagen, Denmark (PRWEB) May 15, 2014
Cryptera, a world-leading provider of secure payment solutions, has announced the launch of a modular payment system designed to provide kiosk manufacturers with the ability to customize the interface of their machines while providing the end user with sophisticated secure payment technology.
The Cryptera MPS 8000 Modular Payment System consists of a Universal Controller Module, a Sankyo-designed Secure Card Reader or Contactless Card Reader and Encrypting PIN Pad that can be arranged however the kiosk manufacturer sees fit, giving them the flexibility for innovation in design and deployment. Unlike a piecemeal solution, the components of the MPS 8000 are fully integrated with each other via RS-232 to provide optimum data security.
As the leader in PCI compliant PIN Pads and software, the Cryptera MPS 8000 meets the highest international security standards, including PCI 3.x , EMV L1 and SRED. EMV Level 2 is also available through a Cryptera partnership. The MPS 8000 solution is certified and recommended by the PCI Council and other payment industry authorities.
"Cryptera has a clear strategy of providing flexible security solutions directly to kiosk manufacturers," says Brian Schleisner, Head of Business Development and Product Management at Cryptera. "We have designed the MPS 8000 to provide best-in-class data security at a time when concerns over breaches is on everyone's minds."
The Modular Payment Solution offers offline PIN verification, expanding Cryptera's portfolio which largely supports online PIN verification devices. In this scenario, the card itself stores the PIN information, so when it is entered the payment system itself does the verification. There are security benefits for both types of verification, but offline verification is a growing future trend in the unattended payment market.
"We face a growing in popularity for self-service payment among consumers," Schleisner said. "We have found that this modular system is ideal for unattended and self-service situations such as ticketing kiosks, petrol stations, car washes, drive-thrus and parking garages."
The MPS 8000 is available immediately to kiosk integrators and Cryptera partners. For more information, visit http://www.cryptera.com.
About Cryptera
Cryptera is fast-growing subsidiary of the Nets Group, headquartered in Copenhagen, Denmark and is a world-leading provider of secure payment solutions and supplies some of the largest global manufacturers of ATMs and petrol pumps. With more than 1,000,000 payment solutions in use across the globe, Cryptera has proven and tested international experience within the global payment industry and has more than 25 years experience in providing high-security payment solutions worldwide. http://www.cryptera.com