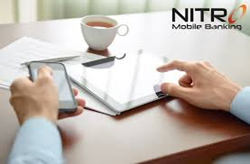 This solution provided us everything we were looking for in regards to customizability, price, and an overall good design. - Libby Calderone, CEO and President of Earthmover CU
Tampa, Fla. (PRWEB) May 20, 2014
Nitro Mobile Solutions, a leader in mobile banking solutions, announced today a strategic partnership with Illinois-based Earthmover Credit Union.
The partnership will enable Earthmover to deliver a fully integrated, native mobile banking application to its 23,000 members. The mobile app will run through Nitro's powerful, patent-pending mobile platform and will include high-demand features such as remote deposit capture (RDC.)
"Earthmover Credit Union is looking forward to providing this well-rounded mobile solution to our members. This solution provided us everything we were looking for in regards to customizability, price, and an overall good design. With these tools, we will be able to confidently rollout a mobile app that meets not only our needs as a credit union, but also the needs of our members, which allows us to remain competitively relevant in this fast changing, technological world," says Libby Calderone, CEO and President of Earthmover Credit Union.
According to recent research conducted by AlixPartners, 60 percent of smartphone and tablet users view mobile banking offerings as "important" or "extremely important" in the decision to switch financial institutions. The partnership with Earthmover fulfills Nitro's mission of empowering credit unions by allowing them to compete with larger, commercialized banks.
"A growing number of consumers make decisions of where to bank based off of the technological services provided, mobile banking being key. Without staying relevant, our clients could lose their members to financial institutions with bigger budgets. Now, Earthmovers can more easily compete with their larger counterparts easier by offering all of the features their members demand," says Pete Slade, CEO of Nitro Mobile Solutions.
About Nitro Mobile Solutions:
Nitro Mobile Solutions is a leading provider of mobile banking solutions for credit unions of all sizes. Nitro supplies its clients with the tools needed to customize and manage their mobile banking applications at any time, without the need for technical experience. Don't delay—offer your members the features they need to manage their money on the go. For more information and to request a free demo, visit http://www.nitromobilesolutions.com.
About Earthmover Credit Union:
Earthmover Credit Union's vision is to provide its members with quality products and exceptional service while maintaining a competitive rate of return on deposits, the security of capital strength, and competitive rates on loans. Part of the community since 1958, Earthmover's philosophy is "People Helping People." For more information, visit https://www.earthmovercu.com.