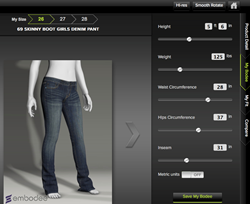 With this technology, what people see online during their virtual try-on or fitting session—no matter their location—is what they get when their clothing purchase is delivered.
Portland, Oregon (PRWEB) May 15, 2014
Embodee Corp. has received a U.S. government patent for technology that fills a major void in online apparel shopping: the ability to try on garments virtually and accurately see how they fit and look.
Licensees of the company's Online Try-On℠ can give their shoppers increased confidence that apparel they buy won't have to be returned. For retailers the benefits are increased sales and reduced costs. By some apparel industry estimates each 1% reduction in returns increases net profit nearly an equal amount.
Unlike other virtual try-on methods, Embodee's technology dynamically renders high-fidelity images of apparel items on models that accurately replicate body shapes of shoppers—in 3D. The apparel items are viewable from any angle.
Shoppers also can view "comfort map" images of the fit from any angle via color coding. The colors show where a garment is loose, roomy, roomy to snug, snug, to getting tight. Different garments or the same garment in different sizes can be compared side by side, as can comfort maps.
"Imagine how difficult it would be for consumers if all physical clothing stores lacked actual fitting rooms," said CEO André Wolper. "Yet this is the situation they face when attempting to purchase apparel online."
"With this technology, what people see online during their virtual try-on or fitting session—no matter their location—is what they get when their clothing purchase is delivered."
Wolper made his comments in Munich, Germany, while at the leading industry event in professional 3D visualization, RTT Excite 2014.
The try-on technology works in concert with Embodee's pioneering software and process that transform apparel into dynamic digital assets. These assets are rendered, on demand and on the fly, in vivid 3D views of apparel from any angle. Embodee's garment digitization method was patented last year.
Company CTO George Borshukov said: "The technologies built by Embodee on the foundation of our two patents represent the only truly scalable digital virtual fitting room solution on the market."
In a trial powered by Embodee's technology and using 1,000 SKUs, apparel brand Hurley offered visitors to the denim section of its online store the option to "See These Jeans On You". The company reported a 33% increase in denim sales and 40% reduction in returns. Historically, denim had been the website's product category with the highest percentage of returns.
A third-party company collected customer feedback during the trial. With 5 as the highest grade, the average score was 4.58.
Estimates vary widely of how much apparel bought online is returned. However, 30% is often cited as an industry average. The most common reason for returns is fit—more than 60% according to some estimates.
For retailers the expense is considerable, including fixed logistical costs for warehousing and restocking. Costs are higher for companies offering free shipping for returns as an inducement to buy online.
While shopping for apparel online has experienced the fastest growth recently among all product categories, the fear of buying the wrong size deters many consumers from risking purchases altogether. Some shoppers routinely order more than one size of the same item and return those that don't fit.
Embodee's Online Try-On can be used anywhere and anytime on any web-connected device. While the technology helps those who want to shop from the convenience of their homes, it also can be used to streamline the in-store experience. Shoppers can try on in seconds what otherwise would take minutes or even hours.
About Embodee
Embodee Corp. was founded in 2008 to develop methods for helping the apparel industry use 3D visualizations in merchandising and selling products online. The company has evolved and now delivers virtual product experiences for business, enabling companies to give their customers an immersive visual interaction with their products, enriching the online shopping experience.