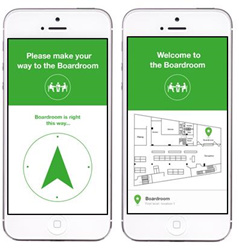 The success of any BLE beacon solution lies in understanding the context and user, creating relevant value and convenience, and using data insights to differentiate your business amongst competitors in your industry.
(PRWEB) May 15, 2014
The software company has developed its own Phoenix toolkit, which isolates a specific set of BLE beacon technology features useful beyond the retail environment.
Employing features including micro-location, device-to-device communication and indoor navigation, Tigerspike developers are evolving what is currently in the market and helping businesses become more accurate and sophisticated with their solutions and offerings built on this technology.
Tigerspike is applying this enhanced technology to new scenarios within the workplace including office registration; office navigation; facilities management; and automating activities such as inductions, sharing meeting notes and time sheeting. Beacon technology can as also be used for OHS applications such as warning staff of high risk areas on construction sites or for use in mines where Wi-Fi is not available.
Through prototyping, testing physical and environmental influencers, and user experience testing with BLE beacon solutions, Tigerspike has overcome some of the key challenges associated with user perception, as well as hardware and software limitations, and is working to advance and future-proof solutions.
"Building our own solution has given us more insight as to how the beacons function, which will ultimately be employed when customizing a solution for a client and/or integrating it with an existing in-market app," said developer Dean Berwick, based in Tigerspike New York, who worked on the project alongside David So, Head of iOS, Sydney office.
In addition to Apple's iBeacon offering, the BLE beacon technology market is set to be a hotbed of activity.
"When we talk about software and hardware, the beacon wars are heating up," said So. "PayPal and Qualcomm are gearing up to develop their own beacon hardware and vendors like Estimote, Swirl, and GPShopper are entering the mix with beacon hardware and management software platforms."
Retailers have been the early adopters of BLE technology and are also driving concept work around different beacon solutions. Apple, American Eagle Outfitters, Kenneth Cole, PayPal and Tesco have trialed beacons in-store in the US and UK for vouchers, check ins, payments, customer service and personalization. PayPal has also started trials in restaurants to drive adoption and insights.
Implementations are mainly focused on pushing offers or deals, however, there are early forays into speeding up the checkout process, contactless payments, indoor navigation and improvements to customer service, all empowering the customer and focusing on the conversion in-store.
BLE solutions can open businesses up to a previously untapped world of data. Beacons have already enabled the capture of previously unavailable data around user journeys, dwell times, products purchased and vouchers redeemed in-store.
Alex Burke, CEO of Asia Pacific, Tigerspike said, "The success of any BLE beacon solution lies in understanding the context and user, creating relevant value and convenience, and using data insights to differentiate your business amongst competitors in your industry. Businesses must start with a clear plan and objectives, sufficient resource alignment and appropriate systems integration, in order to tap into and analyze that data effectively.
Ultimately, we must remember the end-user experience and consider that there is a thin line between being convenient and being invasive."
---
Tigerspike is a global enterprise software and user experience technology company that helps customers unlock the power of Personal Media, which is transforming the way we live, and work.
Its Phoenix platform has been simplifying complex integrations and enabling secure multi-device experiences across all Personal Media devices since 2003. By adding a layer of user experience intelligence into Phoenix through its Kallide UX process, Tigerspike is able to produce software user experiences that delight consumers and employees. Customers have found this leads to increased sales, reduced costs, happier employees and greater productivity.
Tigerspike is transforming businesses from offices in San Francisco, New York, London, Dubai, Singapore, Tokyo, Sydney and Melbourne. With over 60 awards in 10 years, the company has a reputation for innovation that creates long-term partnerships with the world's biggest companies. Its customers include AMEX, Shell, Emirates, Standard Chartered, Kaiser Permanente, Woolworths, Westfield, News Corporation, Direct TV, Novartis and Vodafone.