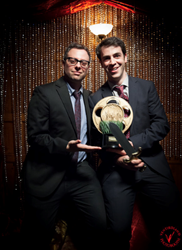 New York, NY (PRWEB) May 15, 2014
production glue has garnered a reputation as one of New York City's most innovative production agencies. No job is too large or daunting for production glue's unique creative approach, and it is seen as a firm that not only keeps up with the latest event technology, but sets new trends in the process. Perhaps no other example is greater than production glue's unique approach to sustainability.
Since production glue's founding in 2006, sustainability has been part of the vernacular at the production glue offices. As a company that regularly creates fully-realized event experiences, often in the heart of dense urban environments, it only makes sense to make every part of our production process be as efficient as possible and as low-impact on the environment as we can be.
Long before sustainability was a buzzword, used to garner positive press than to actually reduce impact, production glue was trending for the future to create the next innovation in sustainable events. production glue understands its unique position to impact how the event industry approaches sustainability, and continues to develop new and innovative green event ideas with its sustainability focused, greenGLUE.
greenGLUE was designed to integrate into the overall architecture of production glue's production process, fostering sustainable practices at every stage, from concept and site selection, to fabrication, to event operation. Production glue even employs a full-time Sustainability Manager, Lowell Fox, whose diverse background in both traditional theatre and events ensures production glue is a good steward of its resources, and leads to a more streamlined, environmentally-conscious production process.
As events continue to expand in scale and scope, production glue has the ability to not only continue to create award-winning experiences, but develop the next great environmentally conscious, trend-setting events for its clients. We are extremely pleased to be recognized for our efforts in sustainable creative and look forward to "sustaining" this mission.
About the Golden Dumpster Awards:
The Golden Dumpster Awards is an annual awards program presented by Film Biz Recycling, a 501(c)3 charity that coordinates the acquisition, distribution and charitable monetization of used costumes, props, and scenic items from New York City film, commercial and theatre production companies. Since 2008, Film Biz Recycling has diverted 450 tons from the NYC waste stream. The Golden Dumpster Award seeks to recognize the leaders in sustainability within the entertainment industry. For more information, contact info (at) filmbizrecycling (dot) org.
About production glue:
production glue, founded in 2006, is an award-winning agency partner that produces unique live experiences. Our clients include major brands, PR firms, marketing agencies, international festivals and often include A-list musical artists and talent. Through our team's versatility and breadth of experience, production glue influences the strategy & execution of the coolest and most ambitious events - the more challenging, the better! For more information, please contact info (at) productionglue (dot) com.