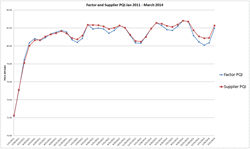 South Plainfield, NJ (PRWEB) May 15, 2014
Credit2B is the leading web-based community of trade credit grantors that share a common platform to access better credit information about their trading partners. They released their Payment Quality Index (or PQI), which indicates how well trade suppliers are getting paid. PQI is the probability that a trade creditor will collect its money within its terms of sale on a scale of 0-100 (100 being perfect) based on tens of millions of trade receivables experiences from Credit2B's contributing trade suppliers.
Credit2B's US Trade Supplier PQI went down from 82.7 in October 2013 to 81.4 in January and 81.2 February 2014, clearly indicating a weakness in credit payment terms, likely driven by the disruptive winter weather pattern.
March, however, saw a significant rebound in the Supplier PQI, rising to 82.5. This should provide credit departments some comfort and show that the previous 2 months had more to do with the weather than the start of a negative trend. Also noteworthy is that the PQI has been consistently above 80 since April 2011. In payment terms, this is an extremely strong business indicator. In fact, Credit2B's data indicates that the first four months of 2011 witnessed a major turn in the post-recession PQI. Scores in 2011 moved from 72.2 in January to 80.4 in May and have stayed consistently above 80 since then. This PQI trend is probably the best single indicator of strong commercial credit running through the US economy since that period.
"We've seen significant stability in the payment trends since the worst days of the recession" said Bob Carbonell, Chief Credit Officer of Credit2B. "We also see continued stability in willingness to take risk. On average, our client base's credit utilization levels (ratio of average total balance to average high credit over a 12 month cycle) remained consistently above 80%." Carbonell is an industry veteran who spent a significant part of his career as a leading analyst at D&B, prior to his career at Credit2B. Payment trends through Q1 2014 have come in line with his forecast in December 2013.
Credit2B also manages a trade exchange network of over 50 accounts receivables Factors and other financial institutions, including 9 of the 10 major factors. Credit2B's Factor PQI moved from 82.7 in October of 2013 down to 80.1 in January and 80.3 February, while March experienced a significant improvement to 82.0 for the Factor industry. Bonnie Gerrity, VP Product at Credit2B and a former lending officer at a major bank added "when comparing the data between the trade community and the financing community, it would appear that trade suppliers were paid on terms comparable to Factors over the last 12 months – an atypical phenomenon and a sign that businesses across the US are systematically getting to optimal terms with customers."
Bottom Line for Credit Managers:

Since April 2011, the PQI has been consistently above 80, meaning that commercial credit has been strong since the last recession.
Slight PQI downturn early in the year can be attributed to a harsh winter as the number has stabilized since March.
Trade creditors should be more confident that they can collect within terms than the same time last year because year over year PQI is higher in 2014.
About Credit2B
Using patent-pending technology, Credit2B is a platform that empowers credit granting organizations to seamlessly exchange trade credit data and share experiences on common customers globally. Built as a scalable, secure cloud-based application, Credit2B today delivers remarkably high quality and timely credit information, including fully-integrating detailed public filing and third party data into its comprehensive business profiles. Credit2B is simple to join, create connections with peers and access huge amounts of information on common customers through a high-fidelity experience. For more information about Credit2B contact Bonnie Gerrity at bgerrity(at)credit2b(dot)com or call us at 212-279-3300.