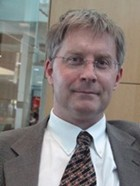 There is a prima facie case that the social cost of carbon has been overstated..[waiting for] ..The new information will help policymakers avoid making some potentially very costly mistakes.
Calgary, Alberta, Canada (PRWEB) May 15, 2014
Friends of Science guest speaker Dr. Ross McKitrick, author and economist, addressed a packed house at the Metropolitan Centre in Calgary, Alberta, Canada on May 13, 2014 on the topic of "The Pause in Global Warming: Climate Policy Implications." He opened by explaining "it's not the pause, it's the flaws," referring to the problems now becoming apparent in models of climate policy.
"An extended temperature plateau, like this almost 17 year 'hiatus,' doesn't refute the idea of a long term warming trend," said McKitrick. "The problem is that it comes at a time when climate models predicted a big temperature increase due to rising greenhouse gas levels. This shows there is a fault in the climate models."
McKitrick reviewed evidence from the recent Intergovernmental Panel on Climate Change (IPCC) report showing that there has never been such a big gap between model predictions and observations, and the gap keeps growing.
"This is raising basic questions about whether climate models overstate the effect of greenhouse gases," he said.
McKitrick explained, "The Integrated Assessment Models (IAMs) that are used to compute the social cost of carbon, are set to mimic climate models, rather than climate data. The growing concerns about climate model accuracy apply to IAMs as well. IAMs are used by politicians to decide on the rate of carbon taxes or Greenhouse Gas (GHG) reduction policies."
McKitrick noted of the great uncertainties in these models, which already call into question their usefulness.
"Within standard uncertainties, IAM estimates of the Social Cost of Carbon falls somewhere between $0 and $206 / tonne," said McKitrick. "There is a huge amount of guesswork in them."
He referred to MIT's Robert Pindyck's statement published in the Sept. 2013 Journal of Economic Literature that the "..models are so deeply flawed as to be close to useless as tools for policy analysis. Worse yet, their use suggests a level of knowledge and precision that is simply illusory, and can be highly misleading."
McKitrick explained to the audience that he believes climate scientists will begin to resolve the problems with their models over the next few years, and this will have a big impact on economic cost estimates as well.
Hans von Storch of the Institute of Coastal Sciences in Germany in an interview with Der spiegel June 20, 2013 said: "If things continue as they have been, in five years, at the latest, we will need to acknowledge that something is fundamentally wrong with our climate models. A 20-year pause in global warming does not occur in a single modeled scenario."
Likewise, Judith Curry, climatologist and atmospheric scientist at Georgia Tech expressed concerns about model reliability in a reported statement published by the Global Warming Policy Foundation Jan. 20, 2014: "Depending on when you start counting, this hiatus has lasted 16 years. Climate model simulations find that the probability of a hiatus as long as 20 years is vanishingly small. If the 20 year threshold is reached for the pause, this will lead inescapably to the conclusion that the climate model sensitivity to CO2 is too large."
"There is a prima facie case that the social cost of carbon has been overstated," said McKitrick. "The uncertainties will largely be resolved in the next 2-4 years There is no downside to waiting for this, and considerable upside. The new information will help policymakers avoid making some potentially very costly mistakes."
About
Friends of Science have spent a decade reviewing a broad spectrum of literature on climate change and have concluded the sun is the main driver of climate change, not carbon dioxide (CO2). The core group of the Friends of Science is made up of retired earth and atmospheric scientists.
Contact:
Friends of Science Society
P.O. Box 23167, Mission P.O.
Calgary, Alberta
Canada T2S 3B1
Toll-free Telephone: 1-888-789-9597