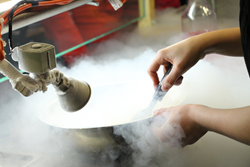 It's not just dessert, it's an experience.
Parkland, FL (PRWEB) May 15, 2014
"It's not just dessert, it's an experience." That's how Michael Goldfarb is describing Sub Zero Ice Cream & Yogurt, a store he and his wife Stella are opening in Parkland, Florida next week. Sub Zero uses liquid nitrogen to "flash-freeze" ice cream right in front of the customer. The patented process creates a unique texture and allows for unlimited experimentation with flavor combinations.
Sub Zero will be having a soft opening next Thursday, May 22, 2014, with doors opening at 12:00 PM. The store is located at 7869 N University Dr, Parkland, Florida. Details about a grand opening event will be coming shortly.
The Goldfarbs, first-time franchisees, are excited to bring the fresh products of Sub Zero to a relatively young market. They discovered Sub Zero when the franchise was featured on the ABC show, "Shark Tank", and "loved it from the beginning", says Goldfarb. Parkland is a new community, and he believes Sub Zero will be a perfect fit for the developing retail scene.
Learn more about store locations and franchising opportunities with Sub Zero Ice Cream & Yogurt at http://www.subzeroicecream.com.