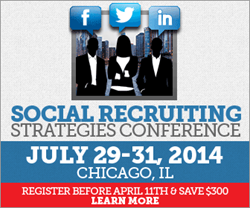 Nearly 2 out of every three candidates who have had a positive experience will refer others (and very likely apply again)
Chicago, Illinois (PRWEB) May 19, 2014
GSMI is honored to welcome Gerry Crispin, as the opening keynote presenter at the Social Recruiting Strategies Conference (SRSC), this July 29-31st in Chicago.
Gerry founded CareerXroads with his business partner, Mark Mehler in 1996. Mark and Gerry facilitate a dialogue between corporate staffing leaders through invitation-only, peer-to-peer meetings throughout the year as part of the CareerXroads Colloquium, which numbers more than 100 of the world's most competitive corporations.
CareerXroads has also been conducting the annual Source of Hire study, since 2001, a report on how employers define and measure the talent supply chain.
Most recently, in 2011, Gerry joined with other volunteers in the industry to form a non-profit, TalentBoard, to oversee the Candidate Experience Awards and share 'why'. This growing movement to define, measure and honor the firms who are treating candidates as partners in the hiring process is now in its 4th year.
In his July 30th keynote presentation, Gerry will be speaking on Your Candidates' Experience: The Intended and Unintended Consequences Of How Social Media Is Empowering the 99% You Don't Hire. Gerry will discuss employers pioneering customer/candidate connections - exploring the meaning, the data and the connections to performance and how social media is often the trigger.
Regarding the importance of candidate experience, Gerry commented, "Nearly 2 out of every three candidates who have had a positive experience will refer others (and very likely apply again) while a quarter of those candidates who rate their experience as negative will go out of their way to dissuade others from applying and only 5% would consider reapplying themselves. Unacceptable costs like these should clearly arm employers to consider improving the treatment of candidates who are not hired."
Gerry's keynote is one of several exciting presentations scheduled at SRSC Chicago this July. This year's event will focus on implementation and measurement of both social and mobile strategies, how to gain buy-in for your social recruiting plan and the candidate experience.
To view the complete agenda or to register, please visit: http://www.socialrecruitingstrategies.com/chicago-2014/ or call at 888.409.4418. Early bird discounts expire this Friday, May 23rd - register now to save $200. Space is limited.
About Global Strategic Management Institute:
GSMI is a leader in the industry of executive education, creating conferences, summits, workshops and training sessions that combine rich learning environments with the opportunity to network with today's most relevant thought leaders, speakers and practitioners. GSMI's annual events have reached 85% of the Fortune 500 companies, in over 30 countries, covering topics that today's leaders find most challenging and inspiring. More information about Global Strategic Management Institute's upcoming educational events for professionals, visit: http://www.gsmiweb.com.
Twitter Follow us: @GSMIonline
1-888-409-4418