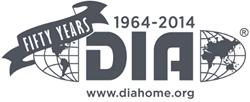 "The industry environment is changing from integrated companies to collaborative partnerships and innovative networks, and from high-volume markets to precision medicine targeted to smaller patient populations."
Washington (PRWEB) May 14, 2014
As the landscape for the life sciences product development industry evolves from one dominated by large pharmaceutical companies and markets to one focusing on smaller, specialty companies and targeted medicines, worldwide experts will discuss navigating the new environment and its potential impact on research and development (R&D) during a session at the DIA 2014 50th Annual Meeting, to be held at the San Diego Convention Center from June 15 to 19.
Industry leaders will explore the ramifications of the industry shift on financial portfolios in part two of "The Changing Landscape for Bioinnovation: The Emergence of Small Pharma, Strategic Alliances, and Precision Medicine," to be held on June 17 at 10:30 a.m.
"The industry environment is changing from integrated companies to collaborative partnerships and innovative networks, and from high-volume markets to precision medicine targeted to smaller patient populations," said Barbara L. Kunz, DIA global chief executive. "The DIA Annual Meeting will bring together industry pioneers to discuss how this new landscape will influence R&D and investment decisions."
The discussion will build on part one of the executive program, to be held June 17 at 8 a.m., addressing how the small and specialty pharmaceutical company sector may be the new engine for bioinnovation.
The sessions will be chaired by two leaders at the Tufts Center for the Study of Drug Development: Kenneth I. Kaitin, professor and director; and Kenneth A. Getz, director of sponsored research programs and associate professor. Panelists for part two of the program include Peter Tippett, chief medical officer and vice president of Verizon Enterprise Solutions; Annalisa Jenkins, chair of TransCelerate's Board of Directors and former executive vice president and head of global research and development for Merck Serono; and Scott M. Whitcup, executive vice president of research and development and chief scientific officer of Allergan, Inc.
ABOUT DIA: DIA is the global connector in the life sciences product development process. Our association of more than 18,000 members builds productive relationships by bringing together regulators, innovators and influencers to exchange knowledge and collaborate in a neutral setting. DIA's network creates unparalleled opportunities for the exchange of knowledge and has the interdisciplinary experience to prepare for future developments. DIA is an independent, nonprofit organization with its global center in Washington, D.C., USA, and regional offices covering North and South America (Horsham, Pa., USA); Europe, North Africa and the Middle East (Basel, Switzerland); and Japan (Tokyo), India (Mumbai) and China (Beijing). For more information, visit http://www.diahome.org.
ABOUT DIA's 2014 50th ANNUAL MEETING: Celebrate the Past – Invent the Future is the largest multidisciplinary event that brings together a community of life sciences professionals at all levels and across all disciplines involved in the discovery, development and life cycle management of medical products. The meeting aims to foster innovation that will lead to the development of safe and effective medical products and therapies for patients. For more information, visit http://www.diahome.org/dia2014.