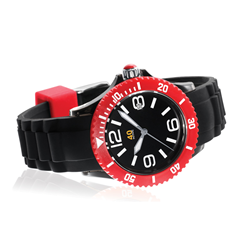 By the end of the month, it is predicted that 40Nine will be in over 200 shops across the country.
Las Vegas, NV (PRWEB) May 15, 2014
The 40Nine line of watches, launched only five (5) months ago is now featured in 70 retails stores across the United States, adding more each day. 40Nine is a new and unique collection of colorful and fun sport watches for men and women. This quick growth can be attributed to the product itself, its uniqueness and its price - only $49.
In just 5 months time, since launched in December, 2013, 40Nine watches have taken the United States by storm. This inexpensive watch collection is a favorite among retailers, who enjoy the price point, making it a quick and easy sell.
From the busy streets of New York City to the elite Rodeo Drive, 40Nine continues to grab new retailers each day. By the end of the month, it is predicted that 40Nine will be in over 200 shops across the country. The last weekend of May will be vital with 40Nine showing for the first time at the JCK tradeshow in Las Vegas, Nevada. JCK is the premier showcase for jewelry and watches from all over the world. 37,500 people attend JCK, most of which are retail store buyers.
40Nine watches were developed by parent company (Universal Watch Co., Inc. or UWC) president, Raphael Cohen. Raphael is also the designer for UWC's popular SOB Collection of watches by Steel Blaze. The 40Nine watch brand features fun, sporty styles in 3 sizes and 15 color combinations with more colors in manufacturing. All 40Nine watches are $49. The watches have silicon rubber straps, plastic cases, hard mineral crystals and are water-resistant to 165 feet. They also have a date feature and Japanese Myota quartz movement. Each watch comes with a 2-year warranty on the movement.
40Nine watches are available in retail stores across the country, online at 40Nine.com and on Amazon.com. 40Nine watches ship the same business day as they are ordered before 4pm Pacific time.
Universal Watch Co., Inc. (UWC) is the United States distributor for TeNo Stainless Steel, Boccia Titanium, The TitanFactory, Steel Blaze and 40Nine jewelry, watches and accessories. UWC was founded by Raphael Cohen in 1994. After spending 20+ years in the retail jewelry and watch industry, Raphael used his knowledge and experience to expand into the wholesale distribution field. He has consistently used his love of technology to become more successful. Since it's inception, UWC's main focus has been to supply both the retailer and the end customer with top quality products and services.
Media Contact:
Nadine Kluger
800-360-2586
http://www.40nine.com
###