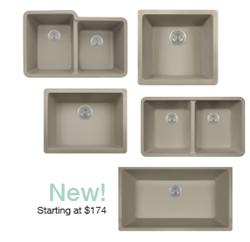 As ambient light around the sink changes from natural daylight to nighttime illumination, pleasing subtle changes in the slate tone will become evident
Toledo, Ohio (PRWEB) May 16, 2014
Five different styles in five different colors has defined the MR Direct TruGranite sink catalog, until now. A fresh new hue, slate, has just been developed and is debuting as the sixth color option for all five sink models. The market has been requesting a neutral color in the line of TruGranite sinks. MR Direct is responding with this new, mid-range, warm-gray color. As ambient light around the sink changes from natural daylight to nighttime illumination, pleasing subtle changes in the slate tone will become evident. Because of the means by which this color is added during the manufacturing process, it is uniformly dispersed and resistant to any fading over time.
TruGranite sinks have been growing in demand by homeowners and contractors alike. They are a premium choice for those who want the natural look and feel of matte stone at a reasonable price. Sinks formed of other materials have a hard time measuring up to TruGranite's superiority in several categories.
As a granite composite (80% Quartzite/20%Acrylic), TruGranite offers the most durable surface available for a kitchen sink. It is extremely heat-resistant, up to 550 degrees, allowing hot pots or pans to be set inside without fear of damage. It is nearly impossible to scratch or stain. Acidic foods and strong detergents will not mar its surface. Because it is such a dense, solid material, it makes for a very quiet sink unlike stainless steel which requires sound-dampening pads.
Perhaps the most impressive feature of TruGranite sinks is that they are actively anti-microbial. Silver ions are infused into the sink materials during manufacture and endlessly work to reduce the population of bacteria, mold spores, yeast, algae and mildew. This technology has been in place in medical industries for years.
With all these amazing features, it's hard to overlook an MR Direct TruGranite sink. And now, all five styles are available in a cool, new, warm color – slate. View this and all MR Direct TruGranite sinks by visiting MR Direct.