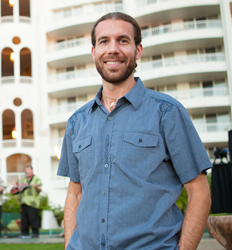 "(Quayle's) efforts to advance green power in the US have not only helped us to build a successful company, but have also inspired voluntary commercial purchasers to make a commitment to clean energy." - Kris Lotlikar, President, Renewable Choice Energy
Boulder, CO (PRWEB) May 15, 2014
Renewable Choice Energy today announced that CEO Quayle Hodek has been recognized by UK-based Recharge News as a young new-energy pioneer. The program selected 40 energy leaders from around the globe out of a nomination pool of nearly 100 and will feature these leaders in an upcoming issue of Recharge magazine, as well as an international forum event in October.
The Recharge4040 list includes leaders from Vestas, NRG Energy, EWEA, the US Department of Energy, OPOWER, Google, and Solar City, among others.
"It is an honor for me to be selected by Recharge as a top global energy pioneer, and to join this particular group of some of the biggest thought leaders in our industry," said Hodek.
Hodek is widely recognized as a pioneer in green power marketing for his efforts introducing renewable energy and carbon reduction options to new markets and industries. Since founding the company in 2001, Hodek has built Renewable Choice into one of the largest and most respected renewable energy and sustainability companies in the U.S. The company's clients include 50 of the Fortune 500, more than 5,000 LEED-certified green buildings, and scores of universities, municipalities, and middle-market businesses.
In 2006, Hodek helped Whole Foods Market become the first major corporation to go to 100% renewable energy, spurring dozens of other multinational corporations to follow suit. Today, almost every U.S. Fortune 500 company is using renewable energy for some of their power. Renewable Choice supplies green power to 19 of the Top 100 Green Power Partners and is currently the #1 ranked provider by number of Green Power Partners (279), providing more than 3.8 billion kilowatt hours of renewable energy to purchasers in 2013.
Hodek was instrumental in the creation of the Green-e Certification Program, North America's highest industry standard for renewable energy purchasing. Hodek and Renewable Choice are also founding members of the Renewable Energy Marketers Association (REMA), a trade association dedicated to maintaining and growing strong markets for renewable energy in the U.S.
"Advancing renewable energy development has been, and still is, Quayle's absolute passion," said Kris Lotlikar, President and co-founder of Renewable Choice. "His efforts to advance green power in the US have not only helped us to build a successful company, but have also inspired voluntary commercial purchasers to make a commitment to clean energy."
Read more about the Recharge 4040 here.
About Renewable Choice
Renewable Choice Energy is a leading provider of green power, carbon offsets, sustainability consulting, and renewable energy advisory services. Recognized as a trusted partner to numerous major brands, Renewable Choice is a certified B Corporation. To learn more, visit http://www.renewablechoice.com.