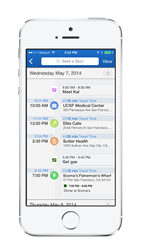 Campbell, CA (PRWEB) May 15, 2014
OT Mobility, Inc., the developers of Spot On Time for Android and iOS, have released a version for Canadian drivers. Spot On time allows users to pre-plan multiple driving trips so that departure times, traffic, routes and parking are all factored in to arriving on time. Spot On Time manages all these details so that people can reduce their overall driving stress.
Spot On Time includes innovative features that help drivers pre-schedule their drives, monitor arrival time while driving and set up parking and walking in their travel time. Finding Spots (i.e. locations) is easy through the fast seek-a-spot search feature which supports Canadian locations.
"Canadian drivers can use Spot On Time to reduce the stress of trying to be on time when driving to multiple locations," says Dave Rothschild, CEO of OT Mobility, Inc. "By helping manage their drives much better, Spot On Time can let drivers know when to leave, which routes to take, and even set parking—all in one app."
The new release includes standard, hybrid and satellite maps along with optimal routes and continuously updated, traffic-adjusted departure alerts. Distances display in kilometers and meters, along with location-based searches of addresses and other points of interest.
"Spot On Time gets the entire job done. Today, drivers deal with a jumble of calendars, navigation apps, radio reports and general knowledge to get their driving done and be on time," he says. "Spot On Time is a scheduling, traffic alerting, navigation and parking app all rolled into one."
As an introductory offer, new users of Spot On Time receive the first two weeks of full-function usage for free. After that, there are four different service purchase options to choose from. Spot On Time is available at Google Play and the Apple App Store.
About OT Mobility, Inc.
OT Mobility's mission is to help people drive happy. Spot On Time is the first app to make it easier to get the whole job done of driving to multiple destinations on time, both today and on future days. For more information, visit online at http://www.spotontime.com.