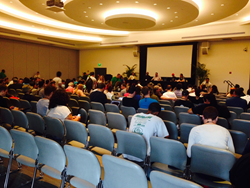 "The networking opportunity provided great feedback in structuring new opportunities for web projects at J.M. Field Marketing," states Belen Vallejo, Web Designer for J.M. Field Marketing.
Fort Lauderdale, Florida (PRWEB) May 15, 2014
WordPress is a PHP and MySQL based content management system which according to a recent survey by W3Techs is used by more than 22.0% of the top 10 million websites as of August 2013, followed by Joomla with only 3.1%.
The members from J.M. Field Marketing's web department that attended WordPress's two day informational session, Word Camp 2014, found the experience beneficial for an increased understanding into existing and prospective client development utilizing the WordPress platform.
"Networking with other professionals in the web design and development industries allows us to see what is being done that works and what has been tried that did not necessarily work," states Belen Vallejo, Web Designer for J.M. Field Marketing. "The networking opportunity, along with the number of other in-the-business sessions to attend, provided great feedback in structuring new opportunities for web projects at J.M. Field Marketing," she added.
WordPress attendees were given gift bags filled with WordPress gear. There was also a large shout out table to write the company of choice's twitter handle. Of which, the J.M. Field Marketing personnel added in their @jmfmarketing handle among the mix of other social media marketers attending Word Camp.
The first day of Word Camp was set up to go over all the latest need-to-know topics for loyal users of the WordPress platform. Each of the sessions catered to the type of user that would be utilizing the platform. The camp's catering to different user levels shows the overall adaptability of the platform as a whole.
J.M. Field Marketing, itself, has found a great benefit in using the WordPress platform for internal and client sites. With its vast array of customization, clients can come forward with different types of requests that WordPress will be able to adapt to with its arsenal of resources in the form of plug-ins.
The second day of Word Camp was a take away for the business side of J.M. Field Marketing. The day's tracks were broken up by the Business Track and Explorers Track. One of the main takeaway sessions was, "The Business of WordPress." This session discussed over how WordPress, itself, creates a framework for the Entrepreneurial mindset. Thinkers, of all ages, now have the ability to create impressive software and plugin-ins within the WordPress platform to sell and accept donations.
One notable moment of the session was from Karim Marucchi, who was asked to share the best marketing advice he could give. Marucchi responded, "After you actually deliver is when your marketing starts. Nothing is going to tell your story like your clients when it's out."
In the development of new software and plug-ins, many start-ups and businesses, at present, grow by word of mouth. J.M. Field Marketing has found a similar web marketing strategy in making sure from start to finish every project is executed with the best foot forward.
Through these informational sessions, the team at J.M. Field Marketing has heightened insight into specific customizations, whether they are unique to the WordPress platform or any other CMS and hope to apply updated technology and concepts to the marketing strategies of their client projects.
For more information on J. M. Field Marketing's Web Services, visit our website, http://www.jmfieldmarketing.com or call 954-523-1957.
About J.M. Field Marketing
J.M. Field Marketing offers a seamless integration of marketing solutions, from design and printed collateral to marketing materials, product fulfillment, web-based inventory management, data collection, inventory systems, and call center services. The company's mission is to work as a direct extension of its clients' brand – providing the services every business needs to help increase revenue in today's competitive market. With over 205,000 square feet in storage capacity, J.M. Field Marketing's pick and pack services provide assistance and advantages to our clients in materials production, online order processing, and web-based inventory management.
J.M. Field Marketing's clients include the banking industry, travel industry, entertainment industry, security industry, hair care products, and more.