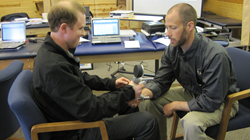 Spooner, WI (PRWEB) May 24, 2014
Rehab Management Solutions (RMS), a Physical Therapist owned-and-operated company that helps physical and occupational therapists open and grow their own practices, hosted a multi-part educational training on Industrial Rehabilitation May 8-10, 2014. The course educated rehab professionals nationally on how to specialize in the treatment of the injured worker on May 8th, and how to become proficient in functional testing on May 9-10. Practices that concentrate in industrial rehabilitation can open the door to new networking and cash-based opportunities, thereby also improving their bottom lines.
The two trainings held over the past week are 2 components of RMS' 4-part Work Injury Program Initiative (WIPI). The RMS WIPI program was designed to educate practices on how to differentiate themselves from the competition and become their communities' destination center for industrial rehabilitation and injury prevention. With worker's compensation costs on the rise (the National Safety Council reports the average direct cost to an employer is $36,551 per claim), there is a huge demand for rehabilitation strategies that quickly and safely return injured employees back to work.
Part 1, which was held on May 8th virtually to a network of nationwide practices, educated clinicians and administrative personnel how to make the treatment of an injured worker a teamwork approach, each playing a different role in the plan of care. In addition, the course offered instruction on the proper transition points, documentation necessities, and which services and tests should be performed during treatment, as well as how to communicate effectively with a referring physician, adjustor, and case manager.
Part 3, held in Spooner, WI on May 9-10, focused on functional test training. When properly incorporated into an episode of care, functional testing allows a therapist to better determine a patient's current abilities in relation to his or her job demands, as well as create a treatment plan that simulates many of the worker's daily job tasks. Testing also allows therapists to assess the injured worker's productivity, pain levels, safety, and physical tolerances. Regular updates on progression and estimated return-to-work timelines based off of the tests' objective data can be easily and proactively communicated to those involved in the case management process, building strong relationships and trust.
Additional trainings are already scheduled with bi-monthly case consultation virtual meetings (Part 2 of the program) being held on May 20, June 3 and 17th, and Part 3 Functional Test Training on June 20-21 in Kenosha, WI. For more information on these upcoming events or to schedule a WIPI program in your practice, contact info(at)rehabmgtsolutions(dot)com.
Rehab Management Solutions is a PT-owned and PT-led company that focuses on helping PTs open, manage and grow practices through proven operations and systems. For more information on the WIPI program or to schedule an educational summit at your practice, visit http://www.rehabmgtsolutions.com/industry.