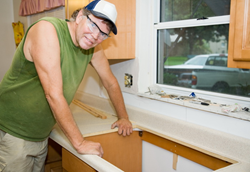 Burbank, CA (PRWEB) May 19, 2014
Business Insurance USA launched a new line of commercial insurance protection today, specifically designed to provide affordable coverage for countertop installation professionals. The new plan makes it easy and affordable for independent countertop installers and small contracting companies to ensure they have legal and financial recourse if a liability lawsuit is filed against them or their business.
"By definition, countertop installers provide their services at the customer's location," said Gary Fisher, Business Insurance USA's Executive Director, "this leaves them with the very real and daily risk of having accidents happen in direct correlation to the work they're doing. We feel that by making important countertop installers insurance like this affordable, we can help mitigate much of that risk so that new companies are better positioned to launch, grow, and create new jobs for the economy."
General liability insurance is commercial coverage that helps companies weather accidents and unexpected events that they may be held at fault for legally and financially. When lawsuits are filed against the company or its representatives, a general liability policy pays for reasonable legal defense costs, such as hiring an attorney and paying for investigations. The coverage also pays medical bills when warranted, and can pay court ordered settlements if the case is lost.
Legal allegations of liability against countertop installers can arise if a customer is physically injured in the general vicinity of where the contractor is working, or if the installer is accused of causing property damages at the customer's home. While liability lawsuits can be filed for numerous reasons, general liability specifically addresses bodily injury and harm; property damages; accusations of libel or slander; intellectual property violations in advertisements; problems created by previously completed work or products sold; and damages to business structures that countertop installers rent or lease.
About Business Insurance USA
Business Insurance USA is a premier provider of commercial business insurance coverage for companies of all shapes and sizes. Policies available include general liability insurance; business owners policies; errors and omissions coverage; commercial auto insurance; directors and officers coverage; workers compensation coverage; and surety bonds.
Based in southern California, Business Insurance USA currently provides broad levels of insurance protection to companies operating Arizona, California, Colorado, Illinois, Maryland, Michigan, Missouri, Pennsylvania, Florida, Georgia, New Jersey, New Mexico, New York, North Carolina, Ohio, Oregon, South Carolina, Texas, Virginia and Washington.
For more information visit http://www.businessinsuranceusa.com