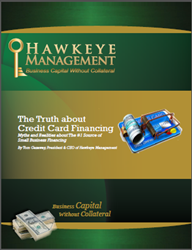 Blackwood, NJ (PRWEB) May 28, 2014
Whether a small business needs or wants working capital, the small business owner may want to grab the new - and FREE - whitepaper about credit card financing.
The new whitepaper about credit card financing talks about:
The 6 core benefits the cards offer a small business:
1. Access to capital
2. Separating personal and business credit
3. Protect, preserve and improve credit profiles
4. Acquire cash-flow friendly financing
5. Minimize interest costs
6. Maximize tax benefits
The 4 actions to utilizing credit card financing the right way:
1. Use the right kind of business credit cards.
2. Keep utilization within acceptable levels.
3. Maintain plenty of available credit on the credit lines.
4. Treat the small business and small business owners credit as an asset.
Business credit cards can be a great way to get low cost financing if obtained and used wisely. Find out The Truth About Credit Cards here.
Hawkeye Management connects entrepreneurs and small business owners with up to $50,000-$150,000 or more in freely spendable business credit lines. Hawkeye Management understands the mechanics and realities of small business credit better than anyone. Hawkeye Management knows what works, what doesn't work, and how small businesses can get the credit it needs as quickly as possible.