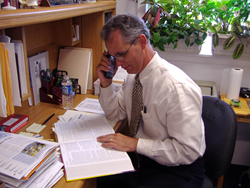 You Can Reach Your Weight Loss Goals
Frederick, MD (PRWEB) May 26, 2014
Millions of Americans struggle with weight loss. There seem to be many factors causing this problem, and a number of options exist to help people reach their weight loss goals. Recently Doctor Steven Digles a chiropractor in Frederick, MD has announced the success that his practice is having with patients.
When contacted at his office Doctor Digles said, "As many in our city know, we are big in weight loss with over 32,000 pounds of fat loss thru this clinic in little over 3 years. Our goal is to lead the way to significant change in the obesity epidemic. This year we have restructured our program to allow virtually anyone in our community to give our program a try…without any obligation or expense whatsoever."
He went on to say, "There are certain health conditions which can disqualify someone from doing our program but for everyone else who wants to lose weight correctly, we now let them do our program for two weeks entirely at our expense. Our program is called the Ideal Protein Method. It is nutritionally based. The emphasis is getting the weight off the right way and teaching our clients how to keep it off on their own in a healthy, enjoyable way."
Finally Doctor Digles commented, "The program is easy and works fast. It was designed by medical Doctors. The only catch is that before you start your two week trial, you must attend a no obligation informational lecture that explains how good weight loss works, why it is different and what the costs will be should you decide to continue. We want everyone in the community to at least give this a try and we are willing to offer this trial at no charge or obligation whatsoever."
If you are interested in learning more about the weight loss solutions offered by Doctor Digles they offer a no obligation orientation lecture every Monday night at 6:30. It lasts about an hour and a half. For those who cannot make the Monday night lecture afternoon lectures are available. These start at 1:15. To attend a lecture, all you have to do is call and reserve a seat at 301-668-2222.