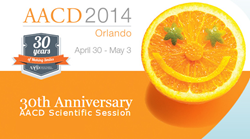 When you feel confident in your smile, it shows in every part of your life. Cosmetic dentists really can make a difference!
Madison, WI (PRWEB) May 15, 2014
The American Academy of Cosmetic Dentistry's 30th annual scientific session took place April 31 – May 3, in Orlando, FL, bringing together experts from a wide range of specialties to share insights and inspiration.
In attendance was Dr. Jana Gyurina, as a member of the AACD and owner of Oak Park Dental, her thriving cosmetic dental practice in Madison, WI. "I attend every year for the opportunity to learn from the most elite cosmetic dentists in the world," said Dr. Gyurina. "This is my 8th year to attend. I always learn something new, and this year was no exception."
This year's opening session included the inspiring story of Eva Grayzel, professional storyteller and oral cancer survivor and a presentation by Dr. Bill Dorfman, AACD Accredited Fellow and celebrity dentist, well known from the popular ABC TV show Extreme Makeover.
"The AACD is the largest, most prominent cosmetic dentistry meeting in the world," Dr. Gyurina commented. "It's an amazing chance to hear some of the world's best dental experts talk about what they've been doing in our field, and allows us to observe firsthand the latest in technological advances and cosmetic dentistry techniques. I took cosmetic courses from Dr. Newton Fahl, Dr. Buddy Mopper, Dr. John Weston, and Dr. Ron Jackson; some of the very best in cosmetic dentistry today."
The AACD is dedicated to advancing excellence in the art and science of comprehensive cosmetic dentistry and encouraging the highest standards of ethical conduct and responsible patient care. The AACD fulfills its mission by: offering superior educational opportunities; promoting and supporting a respected Accreditation credential; serving as a user-friendly and inviting forum for the creative exchange of knowledge and ideas; and providing accurate and useful information to the public and the profession.
In addition to her other commitments to continuing education, Dr. Gyurina is currently working on her fellowship with the AACD (there are currently only about 330 AACD accredited dentists in the world). Her Madison based practice, Oak Park Dental, focuses on meeting every patient's unique dental needs, from minor cosmetic dentistry such as tooth whitening and veneers to dental implants, full mouth rehabilitation and neuromuscular dentistry "Your smile is an enormous part of who you are," she comments. "When you feel confident in your smile, it shows in every part of your life. Cosmetic dentists really can make a difference!"
About the AACD: The AACD is the largest non-profit membership organization in the world that is dedicated to achieving excellence in comprehensive oral care. With more than 6,300 dental professionals in more than 70 countries, The AACD offers superior educational opportunities, serves as a forum for the collaborative exchange of ideas, and provides information to both the public and the industry.
About OPD: Oak Park Dental is a general, family, cosmetic, and neuromuscular dentistry practice in Madison, WI. Dr. Jana Gyurina and the entire dental team at Oak Park Dental are committed to enhancing each patient's life, health and smile.
For more information, visit the Oak Park Dental website at http://www.oakparkdentalmadison.com/.
# # #