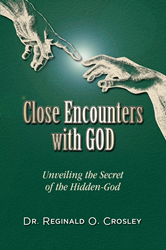 (PRWEB) May 20, 2014
By rediscovering the self-revealed God, we can begin to understand the great mysteries of the universe. The
questions we ask include: Why do innocents suffer? Why does evil persist and even prosper in the world? Why is there a need for martyrdom? And why does God remain hidden?
Through such means as transcendental meditation, mystical rapture and vision quests, many cultures have sought the hidden God. The book "Close Encounters With God" presents a study of these encounters with man as written in the scriptures. The time for 'Unveiling the Secret of the Hidden-God' has come.
About the Author:
Dr. Reginald O. Crosley is a practicing physician of internal medicine and nephrology in Baltimore. Originally from Haiti, he emigrated to the United States in 1967. He has previously published his poetry in Montreal and in Paris, and has also written on alternative medicine, the metaphysics of African traditions, and the Second Coming of Christ.
CLOSE ENCOUNTERS WITH GOD: UNVEILING THE SECRET OF THE HIDDEN-GOD (ISBN: 978-1-60911-422-0) is available for $25 and can be ordered through the publisher's website or at Amazon, Barnes & Noble and other online retailers.
Wholesalers please email BookOrder(at)AEG-Online-Store(dot)com.
Strategic Book Group