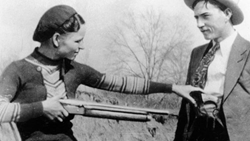 Washington, DC (PRWEB) May 20, 2014
On May 23, 2014, Crime Museum in Washington, DC will wants to know if you know the real Bonnie & Clyde? As we approach this famous day, the question to consider is: Why is there so much fascination with Bonnie & Clyde? Do people glorify them because of their romance? Why they are mistakenly viewed as the "Robin Hood" of the Great Depression?
Bonnie and Clyde's names are synonymous with lawlessness, intrigue, and American Folklore. The pair, ringleaders of a gang of outlaws, plagued the Dallas area during the Great Depression. They were collectively responsible for numerous robberies, prison breaks, and murders during a four and a half year spree, terrorizing the south as they looted, stole, and plundered their way to infamy.
"The historical impact of Bonnie & Clyde is impressive and their popularity remains baffling. The manhunt for the gangs of the Great Depression helped form a more organized structure of law enforcement that we still have in place today. It's ironic that Bonnie and Clyde are revered by many as people of that time were so frightened by them. As guests tour the museum, they will learn the truth about criminals while honoring law enforcement that captures them." - Janine Vaccarello, Crime Museum COO
Bonnie Elizabeth Parker and Clyde Chestnut Barrow first met on January 5, 1930. Barrow's life of notoriety began in 1926, when he was arrested for failing to return a rental car. Between 1928 and '29, Clyde was detained numerous times for crimes including safe cracking, robbing stores, and stealing cars. The pair was immediately enamored with one another, and Bonnie soon found herself immersed in Clyde's criminal lifestyle. Parker portrayed her life as lackluster until she met Clyde. The duo, alongside various members of the Barrow gang (Buck and Blanche Barrow, Raymond Hamilton, W. D. Jones, Joe Palmer, Ralph Fults, and Henry Methvin) committed a prolific spree of crimes, patrolling the Dallas area for nearly five years. While they are often remembered for their bank robberies, the group preferred to target small stores and gas stations.
A police raid of the gang's hideout on April 13, 1933 propelled their lives into stardom. Relics from the raid, a reel of film found at the scene and revealing photos of Parker and Barrow posing with weapons and cigars, were released to the media. The newspapers ran the photos, and the public was hooked.
After an acquaintance of the couple tipped the police off to their whereabouts, on May 23, 1934, in Bienville Parish, Louisiana, Bonnie & Clyde were killed by a blanket of police gun fire as they were riding in a V8 Ford, now known as the "Bonnie & Clyde Death Car." While the actual figures are not known, it is estimated that Bonnie & Clyde each had around 25 bullet entry points in their bodies and over 100 bullets pierced the car.
Bonnie & Clyde's story has been romanticized repeatedly by writers, artists, movies and everyday people in passing conversations. Guests at the Museum are seemingly unaware of the couple's degree of violence. When polled, a vast majority of guests felt the couple were pushed into a life of crime because of the era.
Bonnie & Clyde killed innocent people and robbed small business owners. Hat's off to law enforcement who work so hard to protect and serve our community and thank you for ending this couple's criminal adventure 80 years ago
About Crime Museum
Crime Museum's mission is to provide guests of all ages with a memorable insight into the issues of crime, crime fighting, and the consequences of committing a crime in America through a captivating interactive, entertaining and educational experience. The museum is located on 7th Street NW between E and F Streets, NW in downtown Washington, D.C. and online at http://www.crimemuseum.org.
###